Vietnamese celebrities have launched fund raising campaigns to help flood victims in the center of the country. Some have traveled to the affected areas to deliver necessities to people in need.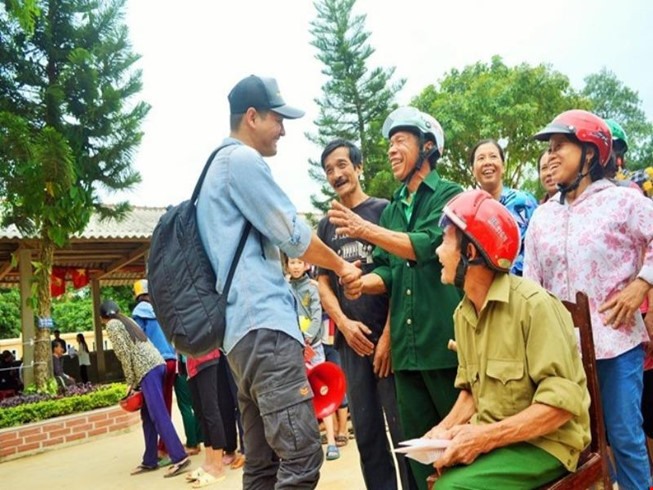 MC Phan Anh hands presents to flood victims in the centre of Việt Nam. He has raised over VNĐ16 billion ($710,000) to support the people in the flooded areas. — Photo www.plo.vn
Renowned MC Phan Anh, known to many Vietnamese through numerous talk shows, himself donated VNĐ500 million (US$22,000) and urged the public to follow suit.
A day later, Phan Anh's bank account received nearly VNĐ8 billion ($380,000) in

donations

and the amount has kept rising. By noon of October 19, three days after he issued his call for donations, the sum reached nearly VNĐ16 billion ($710,000).
Many of the

donors

are showbiz stars, like singer Đàm Vĩnh Hưng, actor Trường Giang, MC Trấn Thành, singer Trúc Nhân and model Ngọc Trinh.
"Let's take action. Stop talking. Do not keep silent… Please join hands for the centre of Việt Nam," was the message by model Ngọc Trinh who donated donated VNĐ150 million ($6,800) to Anh's charity account.
Traffic to the flooded areas has been seriously damaged and there is a shortage of food and medical necessities. Despite all theses difficulties, many celebrities have traveled to these areas to give presents to families.
By October 19, MC Phan Anh has given 2,600 presents to flood-affected victims in Mai Hóa Commune in the central province of Thanh Hóa and Tuyên Hóa District in the central province of Quảng Bình. He is planning to travel to Phương Điền Commune in the central province of Hà Tĩnh, which has been submerged for days.
"The two

communes

I have travelled to have been able to control the aftermath of the flood," wrote the celebrity on his

Facebook page

. "Sanitary conditions are pretty good. All the cattle and belongings have been preserved. That is due to the updated announcements by the local authority. However, life is still difficult and ppeople are desperately in need of timely assistance."
Singer Hồ Ngọc Hà cancelled a planned performance this week in order to travel to Văn Hóa Commune in Quảng Bình Province, one of the most damaged areas with over 1,000 households submerged in water. The singer handed flood victims nearly 700 packages, each consisting of 10kg of rice, one box of instant noodles, cooking oil and money.
Recent heavy rains and flooding in the central region have claimed 15 lives and injured 18 others. Nine people are reported missing, according to the latest report from the National Steering Committee for Storm and Flood Prevention and Control.
Nearly 100,400 houses, 1,600ha of rice and over 3,000ha of aquatic farms have been inundated. As many as 36 national road sections have been flooded or damaged, leading to traffic congestion. –

VNS