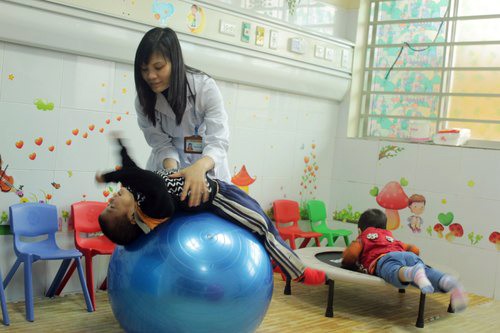 Autistic children get physiotherapy at the National Pediatrics Hospital, Hà Nội. Photo baotintuc.vn
The stress of having an autistic child was multiplied manifold for four long years as Nguyễn Thị Hà tried to find a school for her son.
The resident of Đội Cấn Street in Hà Nội knocked door after door of nursery schools in the capital city in vain.
"He doesn't pose any danger to others, so I think sending him to school is necessary so that he can integrate into the community of his peers. But we were rejected by the schools one after another," Hà said.
As a result, Hà's son had to be moved frequently, from family-based classrooms to private centres for autistic children.
"Finally, I had to send him to a private centre with very high tuition fees."
Although no official statistics on autism are available, it is evident that Hà's plight is shared by increasing numbers of parents in the country.
According to the Việt Nam Institute of Educational Science, the number of autistic children has increased significantly since 2000, as seen from patients taken to hospitals for diagnosis and treatment.
However, Việt Nam has no public school dedicated to autistic children, said Đinh Đoàn, former principal of the Bình Minh Elementary school in Hà Nội, one of a few schools in the capital city that has classes for differently-abled children.
Private schools for autistic children are typically expensive and their quality is difficult to assess, he added.
Most normal public schools – even those in big cities like Hà Nội and HCM City where public awareness of autism is much better than other regions – are reluctant to accept these children.
The few that do open their doors struggle to provide adequate care because teachers lack needed knowledge and skills.
The Xuân Đỉnh Primary school in Hà Nội's Bắc Từ Liêm District has 14 autistic children, but its teachers have received no training in taking care of their special wards.
Nguyễn Thị Hương, a teacher who has taught autistic children for the last two years, said she had to carry out her own research on what she could do after learning that her class would receive such students.
"I learnt what I could from the Internet and used it with the knowledge of psychology I gained in college," she said.
"Teachers in my school are provided many regular training sessions on education of disabled children in general, but there has been no course that focused on autistic children."
The school's principal, Trần Thị Thanh Hải, affirmed that the teachers in charge of autistic students are not provided with any additional support including salary increments or other benefits.
"We prepare monthly reports on the 14 autistic students. They have progressed, even if it is not by much, because what we are doing now is merely providing an environment for them to enjoy social interaction, not a proper methodical education".
Many parents and experts, including Hải, identify the lack of policy support as an important contributor to the current situation.
The Ministry of Education and Training (MoET) has issued general guidelines saying "teachers should pay more attention to disabled children so that they can better integrate into the school environment," but there is nothing more specific, she said.
"The educational sector has stopped short of having concrete policy on admitting and teaching autistic children in schools," admitted Nguyễn Đức Hữu, the ministry's Deputy Director of the Department for Primary Education.
"The ministry has asked the Việt Nam Institute of Educational Science to research this issue. Hopefully it will be done soon and become a basis for the needed policy," he said.
The bigger picture, concerned people say, is that autism has not been officially recognised as a form of disability. This has hindered policy-making on social welfare, healthcare and employment support for autistic people.
"Autism was not included in the six categories of disability mentioned in the 2010 National Law on Persons with Disabilities," said Nguyễn Thị Minh Hiếu, a member of Việt Nam Autism Network.
She said the Deputy Minister of Labour, Invalids and Social Affairs (MoLISA) had told a conference on autism in Việt Nam in April that a revision of the law would have to await the National Assembly's approval, which is unlikely anytime soon.
MoLISA has instead issued a document with directions on recognising people with autism as disabled.
But, Hiếu said, the problem is that most people in charge of issuing disability certificates at lower administrative levels like wards or communes have no knowledge of autism.
"There should be detailed instructions and training sessions for officials at these levels. Only then can autistic children be given certificates, and thus receive social welfare," she said.
Hiếu also said that it was an urgent need that the Government issues a comprehensive policy covering a whole range of issues like early detection, early intervention, education and employment orientation for autistic people.
"If autism is detected early in children and they are exposed to early intervention programmes and education, most of them can become productive citizens when they grow up and lessen the burden on society," she said.