HCM City will build a complete digital map of roads to provide online information to reduce traffic jams and accidents, according to its Department of Transport's road infrastructure management and exploitation division.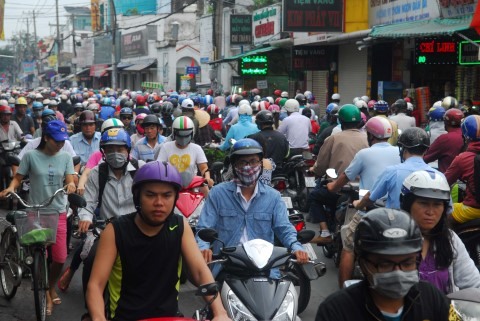 Waiting: A traffic gridlock on Tân Kỳ Tân Quý Street in HCM City's Tân Phú District. — VNA/VNS Photo Mạnh Linh
To create the map, the city People's Committee has asked the Ministry of Transport to share data about all vehicles in the city so the city will set up IT applied measures for managing and regulating traffic.
Ngô Hải Đường, the head of the division, said last week the transport department's existing digital map is simple since it only updates data about buses and traffic congestion and warnings about traffic jams.
Once the ministry provides the data about the city's taxis, buses, trucks and other vehicles, they will be incorporated to complete the digital map.
Once that is done, the public can use smart phones to check the city's transport situation to choose the appropriate streets to avoid traffic jams.
In the first nine months of the year the city saw 2,850 traffic accidents in which 586 people died and 2,340 others were injured, according to the police.
Violation of road rules by trucks, taxis and buses is a major reason for traffic disorder in the city.
Taxis and buses, for instance, often let passengers get on or off at places where they are not permitted to.
Fewer people are using buses, adding more and more private vehicles to the streets, because of the declining quality of buses.
So the city plans to replace 500 old buses by year end, according to the department's public transport management and operation centre.
On Tuesday the centre and the Sài Gòn Bus Company introduced 20 new buses with modern facilities on route No 7 between Chợ Lớn Bus Station and Gò Vấp District.
The city had planned to replace 1,680 old buses in 2015-17, but has only managed 200 as of last month, according to the centre. —

VNS