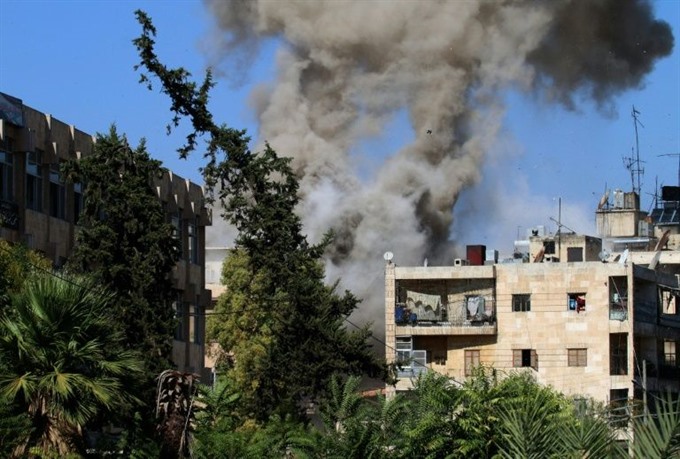 Smoke rises from reported opposition fire from buildings in an eastern government-held neighbourhood of the northern Syrian city of Aleppo on October 20, 2016 as clashes erupted in an area designated as a humanitarian corridor. — AFP/VNA Photo
EU leaders backed down yesterday from an explicit threat of sanctions against Russia over the bombing of Aleppo but warned that they would consider "all available options" if atrocities in Syria continue.
Italian Prime Minister Matteo Renzi demanded that any mention of possible punitive measures against Moscow over the Syrian carnage should be removed from a statement issued after a summit in Brussels.
The climbdown underscored the deep divisions between the 28 European Union leaders as they tried to thrash out a long-term strategy on their increasingly bellicose eastern neighbour.
The watered-down statement said the EU "strongly condemns the attacks by the Syrian regime and its allies, notably Russia, on civilians in Aleppo" and called for an "immediate cessation of hostilities".
"The EU is considering all available options, should the current atrocities continue," it added.
An earlier draft had mentioned sanctions.
Russia had upstaged the summit by announcing that it would halt hostilities over Aleppo on the same day, and said on Thursday it would extend the truce by 24 hours.
EU President Donald Tusk, who had earlier said that sanctions should be on the table, insisted that the leaders had agreed to "keep the unity of the EU" over Russia.
The leaders brought up Russian "airspace violations, disinformation campaigns, cyber-attacks, interference in political processes in the Balkans and beyond" and other issues.
"Given these examples it is clear that Russia's strategy is to weaken the EU," said Tusk, the former prime minister of Poland, one of the countries that is most hawkish on Russia.
The EU is due to decide at their next summit in December whether to renew sanctions over the Ukraine crisis for another six months.
But the European Union remains split over how best to deal with Russia, with countries such as Italy and Greece favouring selective engagement with a major economic partner and energy supplier.
Relations with Russia were put on the agenda of the two-day summit in Brussels months ago amid expectations of progress on Ukraine.
Since then, the deepening of the Syrian crisis has poisoned the atmosphere. — AFP