Turning his final presidential debate appearance into an unprecedented assault on US political convention, Donald Trump refused on Wednesday to say that he would respect a Hillary Clinton victory in November.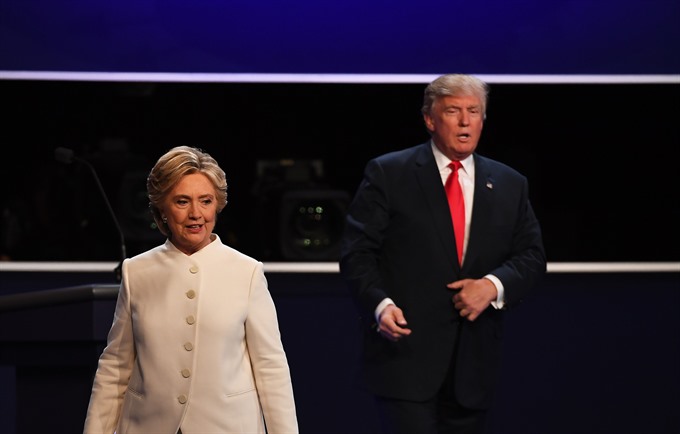 Republican presidential candidate Donald Trump (right) and Democratic presidential candidate Hillary Clinton participate in the third and final presidential debate at the University of Nevada Las Vegas (UNLV) in Las Vegas, Nevada, the United States, on Wednesday. — XINHUA/VNA
As the last head-to-head encounter of the toxic 2016 campaign descended into mud-slinging, the Republican mogul doubled down on claims that his Democratic rival's supporters plan to rig the vote.
And when asked whether he would commit to recognizing the result of the November 8 vote no matter what, the reality television star said: "I'll tell you at the time. I'll keep you in suspense, OK?"
Clinton declared herself "appalled" by what she said was an attack on 240 years of US democracy.
And, quoting her former rival Bernie Sanders, she called Trump the "most dangerous person to run for president in the modern history of America."
Trump had come into the third televised debate of the 2016 campaign in Las Vegas looking to restore hope to his campaign just 20 days before Election Day.
Dogged by allegations of sexual misconduct, trailing in the polls and losing ground in key swing states, the 70-year-old was looking to capitalize on his last major chance to woo wavering voters.
"The media is so dishonest and so corrupt and the pile-on is so amazing," Trump said, referring to reports citing women accusing him of sexual assault, which he said were "fiction" and drummed up by Team Clinton.
He alleged that millions of fake voters had been registered and that the 68-year-old Clinton should not even have been allowed to run because she mishandled classified State Department emails.
Even some Republican lawmakers were outraged. Senator Jeff Flake said Trump was "beyond the pale" and onetime presidential candidate Senator Lindsey Graham said if Trump loses, it will be "because he failed as a candidate."
Democrats called on Republican leaders to repudiate "Trump's utter contempt for our democracy," as Nevada Senator Harry Reid put it.
"One of our hallmarks has always been we accept the outcome of our elections," Clinton told reporters as she flew home to White Plains, New York.
"So what he said tonight is part of his whole effort to blame somebody else for his campaign, and where he stands in this election."
The extraordinary exchange was only one of a series of ferocious clashes, as the two stony-faced candidates faced off from behind podiums on everything from immigration to Syria.
At one point, Trump broke into one of Clinton's responses to call her "such a nasty woman". The candidates took and left the stage without shaking hands.
In what has been a bitter campaign, the two White House hopefuls got off to a subdued but oddly substantive start to the debate, compared to previous brawls.
They were asked about their vision for the Supreme Court, prompting Clinton to argue the election was about "what kind of country are we going to be".
She insisted gay rights and women's rights must not be rolled back.
Trump echoed conservatives who believe "the Supreme Court is what it's all about," vowing to appoint anti-abortion justices who would also protect gun rights.
"If you go with what Hillary is saying, you can take the baby and rip the baby out of the womb of the mother just prior to the birth of the baby," he said.
"Using that kind of scare rhetoric is just terribly unfortunate," Clinton responded.
Pundits have declared the presidential race all but over after the provocative billionaire attacked leaders of his own party and obliterated the normal rules of political decorum.
His debate stance did nothing to quell fears that he and his most passionate fans might not recognize the election's outcome, thereby plunging the country into a political crisis.
Trump predicts an electoral surprise -- what he calls a "new Brexit" -- when Americans vote.
Clinton leads by more than six points in an average of national polls compiled by RealClearPolitics.
Women especially have thrown their support behind the former secretary of state, senator and first lady, who is poised to become the first female president in American history.
A Quinnipiac University poll showed she is winning with female voters by 52 per cent to Trump's 37 per cent. — AFP