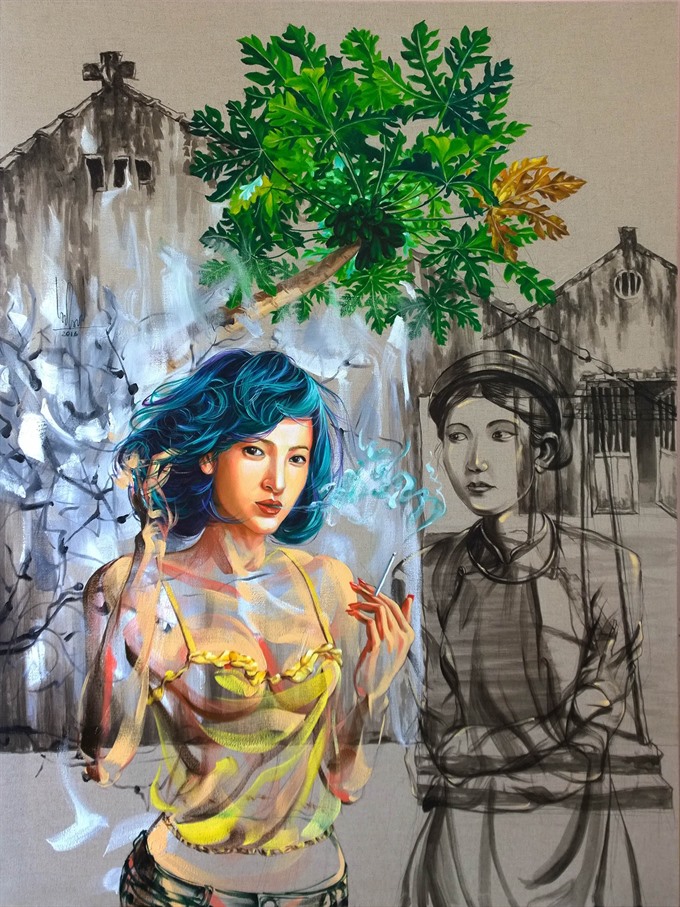 Hai Chị Em (Two Sisters) by Hà Nội-based artist Nguyễn Minh Nam is on display at Craig Thomas Gallery in HCM City. Photo courtesy of Craig Thomas Gallery
Hà Nội-based artist Nguyễn Minh Nam, whose works reflect cultural issues, is showing a collection of his latest paintings at the Craig Thomas Gallery in HCM City.
The exhibition, Ký Ức Nhạt Nhòa (Fading Memories), opened on Friday, featuring 25 oil paintings of Vietnamese women.
The works portray a class of modern Vietnamese women who feel free and confident, in contrast to the images of women in áo dài (long dress)who look more traditional and modest.
Nam used bright

colours

to depict the modern women, and black and white to paint the images of traditional women.
"The young women portrayed in my paintings carry the spirit of contemporary Vietnamese life. They are in opposition to the modest women of the previous generation," said Nam, a graduate of the Việt Nam Fine Arts University.
"I do not wish to take a stand between two conflicting cultural paradigms. Both have their pros and cons," he added.
Nam, 38, has taken part in several group exhibitions in Hà Nội.
Last year, he had a solo exhibition titled Son Vàng Một Thuở (Golden Time) in Hà Nội. The event showcased works on the contrast between the past and present culture and lifestyle of young people.
The exhibition received positive comments from his colleagues and critics.
"As a person who witnessed the transitional period of late 20th and early 21st centuries, I have observed and studied changes of the cultural lifestyle of the country's youth," Nam said.
"In my opinion, traditional and modern culture in Việt Nam has not yet reached a balance. There is still a conflict between them," he added.
The exhibition will remain

open

until November 12 at 27i Trần Nhật Duật Street in District 1. – VNS