The country welcomed 7,265,000 international visitors in the first nine months of 2016, up by 25 per cent year-on-year, while domestic tourist arrivals stood at 48.8 million in the period. Total tourism revenue was estimated at VNĐ291.161 trillion ($13.05 billion), a 20.2 per cent increase year-on-year, according to figures from Việt Nam National Administration of Tourism (VNAT).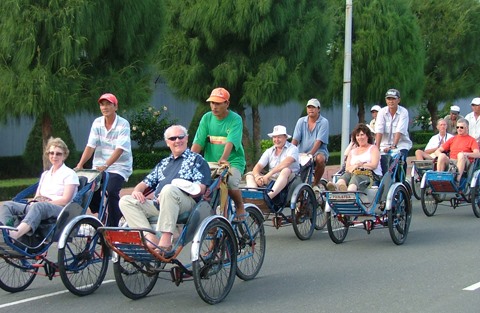 Foreign tourists visit Hà Nội. — Photo nld.com
Tourists from northeast Asia saw the strongest growth, such as Hong Kong, up 79 per cent year-on-year, China 57.7 per cent, South Korea 39.9 per cent, and Taiwan 15.7 per cent. Russia is among the Top 10 countries with the fastest growing number of tourist coming to Việt Nam, totaling almost 300,000 in the first nine months.
Total international tourist arrivals in September were estimated at 813,007, down 9.6 per cent down against August but up 28 per cent year-on-year.
VNAT has set a new target of welcoming 9.6 million international tourist arrivals (from the previous 8.5 million) while maintaining its target of 60 million domestic tourists for the year 2016. — VNS