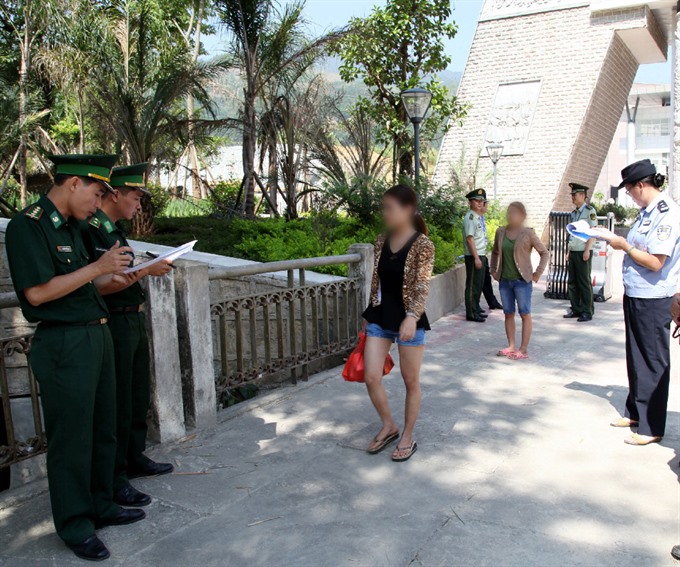 Chinese police return Vietnamese victims of human trafficking to the home country via the Thanh Thủy National Border Gate in the northern mountainous Hà

Giang

Province. The province shares a 247km border with China thus it is vulnerable to human trafficking. — VNA/VNS Photo Minh Tâm
Hoàng Thị Vân was captured in broad daylight.
The 34-year-old woman, accompanied by her aunt, was walking home after a day harvesting beans in the field.
Three young men jumped out of nowhere, hit the two with the back of their guns before dragging Vân to a nearby cave.
Learning that the police was close behind them, the kidnappers ditched Vân on the mountain, but not before one of them raped her. Vân was saved, but she cannot bring herself to go out to the field again without her husband even two years after the three criminals were arrested.
The Vietnamese and two Chinese confessed that they planned to sell Vân to Chinese traffickers.
The same gang tried to kidnap other young women eight times, succeeding in three cases and claiming to have sold the three women to China for a total of 21,000 yuan and VNĐ30 million (US$1,344). No one has seen or heard from them since.
Northern Việt Nam's Hà Giang province, where the attacks occurred, has a 274km border with China and is thus particularly vulnerable to human trafficking.
In 2016 so far, the Hà Giang border guards discovered 16 human trafficking cases, rescuing 10 women and three children.
Deputy head of the provincial border guard's drugs and crime division, Senior Lieutenant Colonel Nguyễn Đắc Lan, said the trafficking of women and children in Hà Giang was getting "more complicated".
Individuals from both sides of the border are involved in the kidnapping and trafficking of Vietnamese children and women, he said.
The number of human trafficking cases uncovered in Việt Nam between 2011 and 2015 increased by 11.6 per cent compared to the previous five-year period, according to the Ministry of Public Security. More than 2,200 cases were reported since 2011, in which nearly 4,500 victims fell prey to traffickers. About 3,300 offenders were involved in human trafficking rings in Việt Nam.
Approximately 70 per cent of Vietnamese trafficking victims are taken to China, according to the lastest national police report.
Such was the case of 38-year-old Vừ Thị Cho, who sought work and was persuaded by a woman from Yunnan province to cross into China.
As soon as she passed the border, Cho was sold. After learning the

phone number

of Cho's children, the trafficker called them and said that she was Cho's friend who would take them to China to meet their mother.
The contact between the trafficker and the victim's family enabled border guards to locate the children and save them from the safe fate. Their mother was rescued with the help of Chinese police.
Using the bait of a better-paid job is the most common ruse used by human traffickers.
In China the victims are sold into prostitution, forced labour or marriages with

Chinese men

who cannot find brides due to a severe shortage of women in the country.
The United Nation's Action for Co-operation against Trafficking in Persons projects that China will have 30 to 40 million more men than women of marriage age by 2020. Deputy head of the Phó Bảng township border station, Captain Đàm Đức Thuyên, told the

Tiền Phong

(Vanguard) newspaper that most of the trafficking victims were members of ethnic minority tribes.
"Human trafficking into prostitution is less common now. The women are more often bought by poor Chinese men to become their brides. But because they are sold to poor families, their labour is also heavily

exploited

," he said.
The police also issued warnings about new forms of human trafficking, including illegal trade of infants and foetuses, as well as human organs, in particular kidneys. Việt Nam has yet to regulate crimes regarding trafficking in human organs, and thus failed to bring the offenders to court.
Human trafficking activities in the sub-Mekong region, including Laos, Myanmar, Cambodia, Thailand and Việt Nam, is the most serious in the world in terms of the number of victims. It was estimated that about 11.7 million people fell into the hands of traffickers in the region, accounting for more than 66 per cent of global human trafficking cases. —

VNS