The 72-hour

ceasefire

in Yemen brokered by the UN has collapsed due to continuous fighting between Arab coalition and the Houthi forces. The impoverished country of the

Arabian Peninsula

is getting bogged down in months-long political crisis.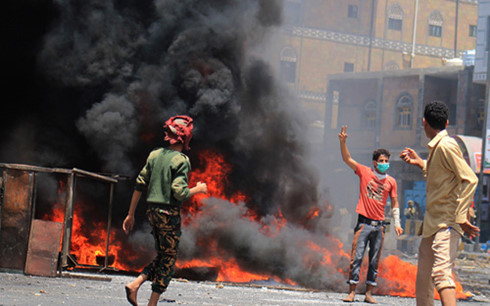 Fighting in Yemen (Photo:channel4)
According to a statement by the Saudi Arabia-led coalition, just hours after the ceasefire took effect, the Houthi fired rockets targeting Jazan and Najran cities in Saudi Arabia. The same day, the Houthi said coalition's airstrike in the northern province of Saada killed 3 civilians, adding that it attacked Saudi Arabia's numerous military bases along the border over the past 2 days.
A 72-hour ceasefire mediated by the UN had ignited hope for the international community's efforts to provide humanitarian aid and

resume

peace talks.
Since March 2015, when the Arab coalition began its military offensive against the Houthi rebels, the UN and 18 countries which sponsored Yemen peace talks had proposed 6 ceasefires, 5 of which failed. The latest breakdown of the ceasefire cast a shadow on the efforts to end the 19-month conflict in Yemen, which killed 6,900 people, injured 35,000 others, and displaced 3 million people.
On October 22, the UK's The Independent quoted the Liberal

Democrats

Party's spokesperson Tom Brake as saying that he obtained a letter sent to the parliament by Defense Secretary Michael Fallon, who admitted the UK government is training Saudi Arabian pilots bombing civilians in Yemen.
Iran deployed 2 warships to Yemen's seawater, hours after the US

destroyer

USS Nitze fired cruise missile Tomahawk, destroying 3 radar stations of Houthi force, who described the act as unacceptable and warned of retaliatory actions.
Iran's deployment of warship to the Gulf of Aden is viewed as an escalation of tensions between Iran and the US, both involved in the war in Yemen. The US supports Saudi Arabia's airstrikes, while Iran helps the Houthi fight against the troops of President Abed Rabbo Mansour Hadi.