CHICAGO —Yoko Ono, whose last recorded song with John Lennon was inspired by Chicago, unveiled here Tuesday the final piece of her first permanent US art installation.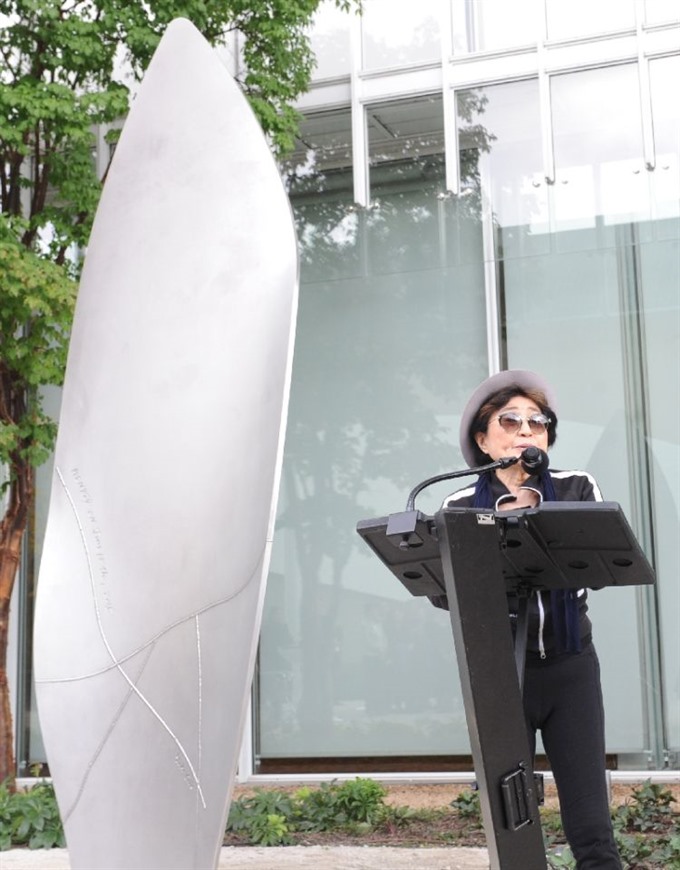 Yoko Ono speaks at The

Art Institute

in Chicago during the unveiling of "Mended Petal". — AFP Photo
The sculpture, which is on display at The Art Institute, is entitled Mended Petal. It is a tall representation of a stainless steel lotus blossom petal.
A group of 12 similar petals, comprising a separate sculpture entitledSkylanding, was unveiled Monday in Jackson Park, an expansive urban setting on Chicago's South Side and the future home of the Barack Obama presidential library.
"I am very, very, very honoured to be here today. I never expected something like this," Ono told guests Tuesday at the museum.
Her sculptures were inspired by a Japanese garden built in Jackson Park in the 1930s, and a pavilion which was a gift from Japan during the 1893 World's Fair.
Ono's 12 Skylanding petals were

installed

on the site of the pavilion, which burned down in 1946.
Ono said she was moved by the history of Chicago maintaining the Japanese-themed park space, even as the United States was at war with her native country.
"I very much appreciate the fact that Americans thought of including us," she said.
The sculptures were symbolic of peace and reconciliation, which the museum said were familiar motifs in Ono's work.
"She understands the significance of the (Jackson Park) site as this historical locus for Japan-US relations," said Janice Katz, a Japanese art

curator

at The Art Institute.
"She was inspired by that history," she said.
Chicago is an important place for Ono. She visited the city with Lennon in the 1970s. A subsequent song inspired by the trip — Walking on Thin Ice – was the last one the couple recorded, said Robert Karr, the president of Project 120 Chicago, a parks revitalization initiative.
Ono's Chicago sculptures are personal works that look to her own past, Karr said, and encourage the city to "create a new future".