Circus performer Tong Toan Thang has impressed both domestic and foreign spectators with his talent in performing circus acts with pythons for more than four decades. His skills in controlling the snakes not only made his performances more interesting and impressive, but also turned the frightening, huge snakes into "cute" ones to many spectators after his shows were concluded.
The circus performer was fondly called different nicknames, including the "Cross-century Thach Sanh" (in Vietnam), the "Python Prince" (in the United States), the "Snake Man" (in Sweden), the "Snake King" (in China), and the "Tarzan Man" (in Thailand).
In 1993, the name of a Vietnamese man was put in many headlines of Swedish newspapers, with such hot titles as a "crazy man" and "snake man". A Swedish woman reporter, one of those who composed those articles, wrote that she was so frightened when seeing four huge pythons curled up and sleeping on his bed. That man was circus performer, Tong Toan Thang. Thang said that those are just a few among many other memories recorded during his more than four decades of performing with the pythons in many countries throughout the world.
Circus performer Tong Toan Thang (September 2016).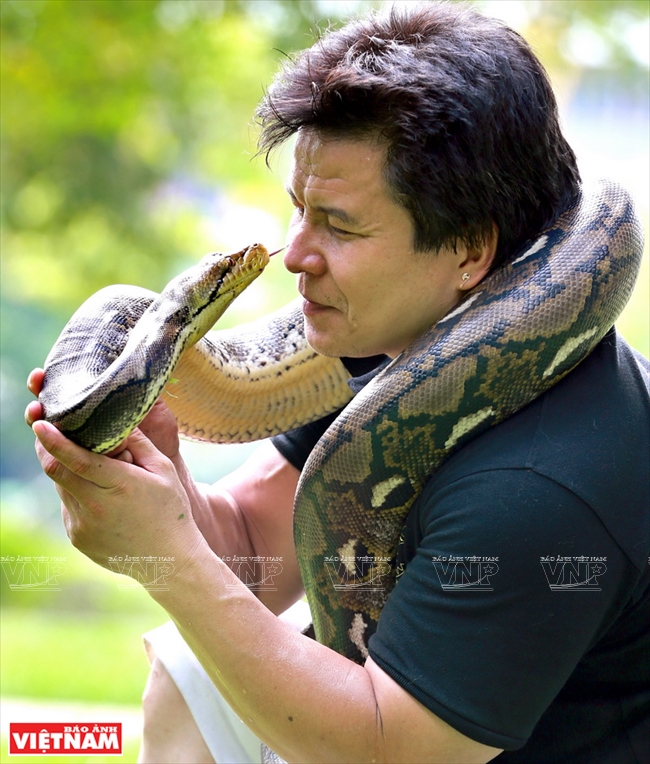 Thang spends time every day to take care of his special "performing partners".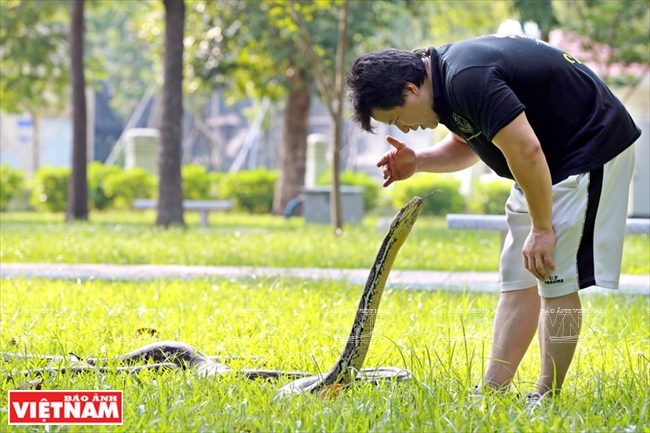 Training with the pythons.


A performance with the python by Tong Toan Thang, at the Central Circus in Hanoi.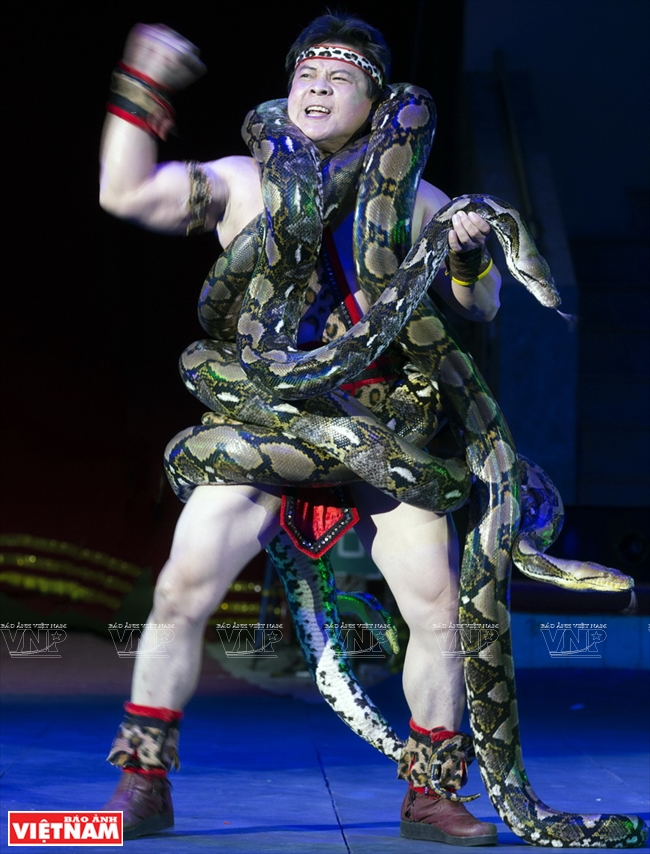 The brave Thach Sanh defeats the python.


Talks with spectators after the show.
He recalled a story that happened during one of his performances abroad. After the show, a local spectator told him: "I am now

60 years old

, and I never thought that I could touch a python, as I did today. You helped me control the ever biggest fear in my life. I don't fear the snakes any more, instead I feel like they are friendly."
The spectators' impression of his show is exactly the message that the performer wanted to give to the audience, i.e. there should be a close link between human beings and nature.
In Vietnam, Thang is called a "cross-century Thach Sanh", which comes from a Vietnamese fairytale, in which a brave man, named Thach Sanh, killed a big python, a feat that many other strong men could not do before.
"I am very happy when performing circus acts, especially those with the pythons, as I want to make people get closer and friendlier with nature and animals, and thus they will come to love and protect them," the actor said. He also said that living closer with animals can define a man's character and that will help him worthy to be a "human being".
With that philosophy in mind, together with his love for nature, the actor has received great respect and admiration from both local and foreign spectators over the past four decades of performing. He is still the "Number One" circus performer with pythons in Vietnam.
Thang has a robust body, just the same as the character Thach Sanh in the fairytale known by generations of Vietnamese. However, he faced death at least four times when performing with the pythons. That was when the pythons themselves around his neck, making him fall down on the stage before being rescued by the guards. Those deadly accidents never made him step back, instead he became more skilled and experienced in taming the snakes.
Training with his students.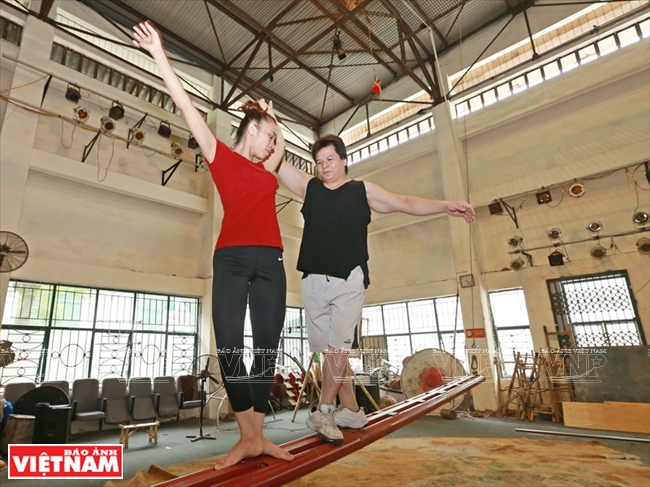 Tong Toan Thang is famous for his circus performances with the pythons,
and he also directs acts which won prizes at international circus festivals, at home and abroad.
At present, Thang no longer performs on the stage, but works as a stage director. In this new position, he still shows his talent and passion for the circus, and responsibility in developing the Vietnamese circus performances. Vietnam's circus acts directed by Tong Toan Thang received many awards at international circus festivals, including "Du Quan Ho" which won a Gold Medal at the International Circus Festival in Italy in 2014, and another Gold Medal for the performance of "Romeo and Juliet" at the Hue International Circus Festival in May 2016.
Story: Thao Vy –

Photos

: Tat Son