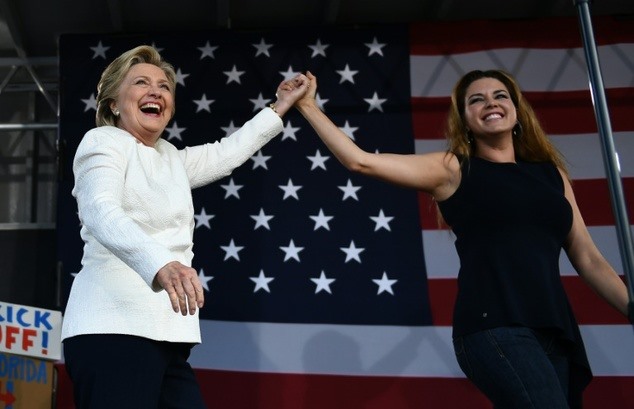 Hillary Clinton was introduced at a rally in Florida by

Alicia

Machado, a former Miss Universe publicly humiliated by Donald Trump, then the owner of the pageant.—AFP/VNA Photo
FORT LAUDERDALE – Hillary Clinton launched a final week election offensive Tuesday to lock down the state of Florida, key to Donald Trump's White House dream, as polls showed their race narrowing.
The Republican had been buoyed earlier in the day by a national poll that showed him sneaking a narrow lead in national voting intentions, sending shivers through US markets.
But when the 69-year-old Democratic

candidate

took to the stage for a late Fort Lauderdale rally her fierce rhetoric was backed by new survey of early voters that shows her winning Florida.
"Well, I'll tell you what!" she declared, her voice cracking but her tone triumphant. "Donald Trump has proven himself to be temperamentally unfit and unqualified to be president of the United States." As she spoke, pollster TargetSmart forecast that she could win Florida –and effectively bar Trump any route to the White House – by a massive eight point margin, 48 to 40 per cent.
The Florida poll, conducted with the College of William and Mary, used only a small sample of voters but crucially it targeted those who had already case ballots under the state's early voting law.
An average of earlier Florida polls by tracker RealClearPolitics gives Trump a narrow one point lead there, but TargetSmart's survey suggests that many registered Republicans have switched camps.
The 70-year-old real estate mogul will be undaunted by the numbers, claiming at his own Wisconsin rally to be ahead in all the key

battlegrounds

and citing a new nationwide poll that pit him in the lead.
The ABC News/Washington Post tracking poll showed him leading Clinton by 46 to 45 per cent, reflecting other polls that still put Clinton in the lead but suggest the race has narrowed as November 8 looms. And renewed FBI scrutiny of Clinton's controversial use of a private email server as secretary of state has excited Republicans and underlined public doubts about the Democrat's trustworthiness.
Trump boasted about the new numbers as he addressed a raucous crowd –chanting "Lock her up!" and "Drain the swamp!" – in Eau Claire, Wisconsin, before turning the knife.
"The Clintons are the sordid past. And we will be the bright and clean future," he declared.
'Insults half the population'
Also on the attack, Clinton was introduced by Alicia Machado, a former Miss Universe whom Trump, then the owner of the pageant, publicly humiliated by mocking her post-victory weight gain.
"Can we just stop for a minute and reflect on the absurdity of Donald Trump finding fault with Miss Universe?" Clinton snorted. Trump's doctor says he is more than overweight at 236 pounds (107 kilograms).
"What about our girls? What happens to their confidence, their sense of self-worth?" she demanded, warning against a president "who insults more than half the population."
And she again cited a notorious tape where Trump is overheard on a hot mic bragging about being able to grope women and get away with because he is a star.The surprise close poll spooked the markets, which had expected the former secretary of state to comfortably defeat a populist who economists fear could plunge the world into recession.
US stocks on the S&P 500 index closed down 0.7 per cent and the Vix Volatility or "fear index" briefly jumped to its highest level since Britain voted to leave the European Union.
But no matter how close the popular vote, in order to win the White House, Trump must take at least one normally Democratic state like Wisconsin, swing states like Florida and the Republican heartland.
Wisconsin backed President Barack Obama in 2012, but if Trump can win its 10 votes, it could put him over the 270 threshold and win him the keys to 1600 Pennsylvania Avenue.
But this remains a long shot. The New York Times statistical model gives Clinton an 88 per cent chance of winning, while data tracking website FiveThirtyEight says she has a 74 per cent chance. Nevertheless, the tumultuous race – which has featured footage showing Trump boasting of sexual assault and claims of Russian interference in the contest – may have a few twists left.
On Monday, Trump was hit by fresh allegations in a detailed report by The New York Times that he not only dodged paying

income tax

but did so in a way that has since been outlawed.
This may not be enough to turn public attention away from a revived FBI investigation into whether Clinton put US secrets at risk by using a private email server while serving as secretary of state.
Clinton's campaign has spent three days berating FBI Director James Comey for revealing to lawmakers that the bureau is looking anew at her use of a private email server while at the State Department.
Obama and Vice President Joe Biden both hit the campaign trail for Clinton on Tuesday and have a full schedule for the week, hoping to push her past Trump in the home stretch.—AFP