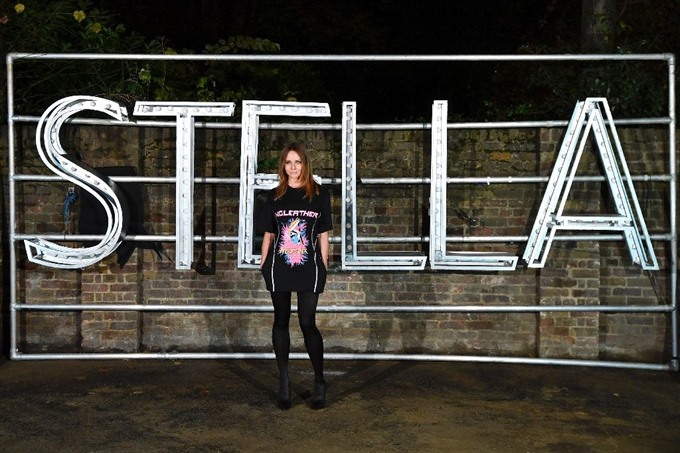 British fashion designer Stella McCartney at the presentation of her menswear launch and women's Spring 2017 collection presentation in London on November 10. — AFP/VNA Photo
LONDON — Fashion designer Stella McCartney unveiled her first menswear collection on Thursday at London's famous
Abbey Road
recording studio, where she promised men a more free and fun wardrobe.
McCartney chose to present the collection at the recording studio made famous by her father, Paul McCartney, and his three fellow Beatles when they named one of their albums after Abbey Road.
His fashion designer daughter referred to the 1969

album cover

, which shows the band walking across Abbey Road, by parading models over the same white stripes to photographers' flashes.
McCartney said the venue was special both for its musical and family ties.
"It really means a lot to our family this studio… seeing and hearing what's been created here, the best music in the world.
"It's such an iconic place. So many people have recorded here," she said.
Pink Floyd, Radiohead, the Manic Street

Preachers

and Blur are just some of the other bands to have recorded at Abbey Road in recent years.
Trained at

Central Saint Martins

College of Art

and Design, McCartney has built a reputation as a designer but has only just decided to enter the world of menswear.
The collection shown at Abbey Road ranged from playful

casual wear

, such as blue pinstripe pyjama-like shirts and bright yellow socks, to more formal tailoring including a black suit and camel overcoat.
"The challenge has been just to look at how men dress but also not over thinking it," said McCartney.
"We want them to be a bit freer and having more fun with their wardrobe and also have timeless beautiful pieces at the same time."
The launch was attended by British creatives such as actress Anna Friel and rapper M.I.A, as well as models Kate Moss and Twiggy. Music performances included Run-DMC, who played the well-known track Walk this way.
McCartney's womenswear collection for spring 2017 was also unveiled at the event.

AFP