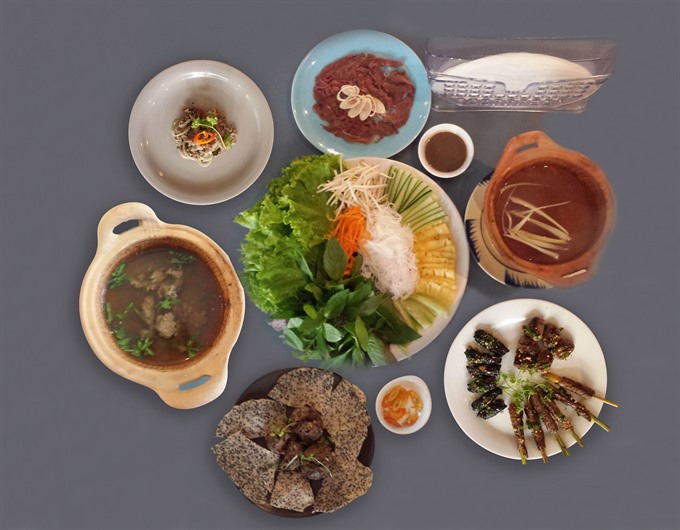 Magnificent Seven: An outstanding beef selection on the Ru menu
Viet Nam News
Authentic southern Vietnamese preparations delight the palate at a HCM City restaurant ruled by family recipe. Mỹ Duyên reports
There is nothing outstanding about this restaurant's location, tucked away as it is in a quiet District 1 alley, but once you have gotten here, the odds are that an invisible hand will keep guiding you back to this place time and again.
The calm, soothing décor marked by soft colours and tasteful designs put you at ease as soon as you enter the place. You feel immediately that whoever runs this place know what they are doing.
The impression is deepened as you pick up the menu, which is different from the usual, very artful and passionate. I say passionate, because there is a genuine ring as it invites you to eat healthy, nutritious food, like brown rice noodles and veggies, "good food for a good life".
Then you have the food. Sets you back by a few decades, which means, you are transported to the seventies or so, to an era when food was clean, fresh and very tasty.
The restaurant offers a wide selection of over 90 authentic Vietnamese dishes for lunch and dinner, including imported premium beef and pork, chicken, seafood and vegetarian fare.
Every dish is prepared in a truly traditional southern style and stays faithful to classic family recipes, not using monosodium glutamate.
"Our food should be truly enticing and healthy. A beef dish should be made exclusively with beef, no other protein or additives or strong spices," said Nguyễn Thị Xuân Nga, Ru owner and manager who is very partial to the traditional Vietnamese kitchen.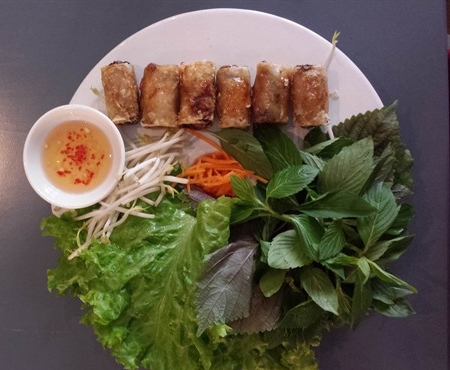 On a roll: Deep-fried spring rolls are crisp and uniquely flavoured.
"We are trying to make a difference by going back to what Vietnamese people ate over 40 years ago. When we started, I knew it would be a big challenge. However, our concept has now convinced many."
We started our meal with the wrap and roll section, a common favourite. The deep-fried spring rolls (VNĐ65,000) were a delight. It is so easy to get this dish wrong, and difficult to get it just right. This was just right. Crispy, but not oily, and a flavour like nothing I'd had before. The use of best ingredients and skilful preparation made a difference. It was aromatic and delicious. The accompanying fish sauce and tropical herbs were a perfect foil.
For our next order, we chose a seven-course set of beef at VNĐ390,000 (for two), a signature Ru collection. Let me tell you this right away. This is a must-have item that you can plan for.
"Forty years ago, the beef set was considered an exquisite dish only served in Saigon's luxurious restaurants," Nga said.
"However, the beef dishes have now become 'street food'.
To make the dishes affordable to all diners, both street-side food outlets and restaurants have changed the traditional recipes by adding more spices and non-beef meat, for example, replacing beef with pork.
"That's why the beef dishes at these establishments don't have the truly authentic taste of beef, and their flavours are also totally different from what they were before."
As the seven beef items arrived at our table, they looked amazing; more like a typical Vietnamese family feast where all dishes are skilfully prepared and beautifully set up on a dining table.
We started our beef feast with two rare beef dishes - one with a dip of lemon sauce with onions, herbs and red chilli; and another dipped in a simmering pot of coconut juice and vinegar. These were exceptionally tasty when served with the special homemade salty, tinny fish sauce with chopped red chilli and garlic along with tropical herbs and green salad.
Next came the three grilled servings – each with three pieces. Tantalising. I love grilled food, but I was careful to have just one piece each so that I could sample all three flavours.
The grilled beef crepinette was good, but the other two were even better: grilled beef wrapped in la lốt (piper lolot) leaves and grilled beef with a homemade satay sauce. They were so fresh, juicy and flavourful, that I thought, 'I am going to finish two whole portions on my next visit.'
Our feast continued with a delicate beef ball served with rice wrap chips and ended with a wonderful gingered beef rice soup. Served hot, the ginger soup helped digest our large meal.
The uniqueness of the beef ball was the family recipe, which beautifully combines minced beef, chicken liver, peas and onions. It is a delicacy that no foodie should miss.
We were full, but eagerly scanned the menu for next time. The selection of phở (rice noodles with a beef or chicken) and stir-fried noodles (with beef or seafood with different homemade sauces) and noodle rolls, starting from VNĐ65,000, looked appetising, and we knew we'd be back.
For those who love rice in their meals, there is the garlic fried rice (VNĐ30,000), fried rice with lotus seeds and vegetables (VNĐ65,000) and fried rice with chicken, pipeapple and vegetables (VNĐ135,000), and coconut steamed broken rice with grilled honeyed pork ribs (VNĐ95,000). Yum, indeed.
After the seven-course set, we were content, but decided to take up the recommendation to share a portion of warm, flourless local chocolate cake (VNĐ60,000). This is a restaurant with so many must-try dishes, I thought, as my taste buds whistled a happy tune. VNS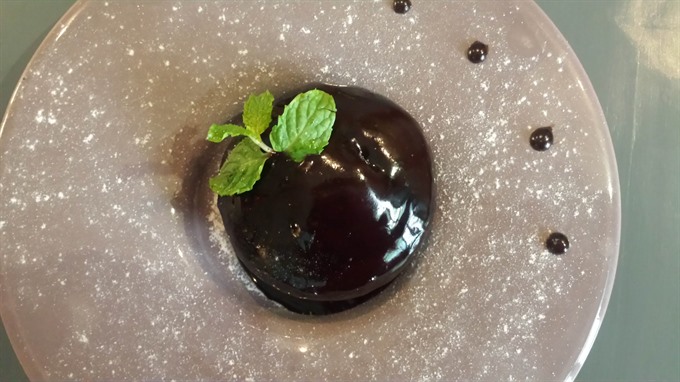 Sweet thing: Homemade sugar-free warm, flourless chocolate cake. VNS Photos Anh Duy