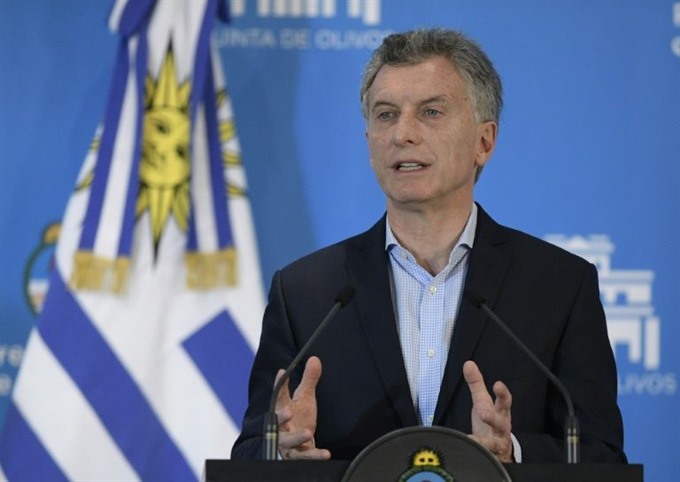 Argentina's President Mauricio Macri's government has begun an ambitious reform

programme

to reverse the "unsustainable policy framework of the past administration (which) was simply not tenable," the IMF said. – AFP/VNA Photo
WASHINGTON — The IMF has urged Argentina to stay the course on tough economic reforms, but also to take steps to protect the poor from the negative consequences.
In the first report on the nation's economy in a decade, marking full restoration of relations between Buenos Aires and the International Monetary Fund, the fund on Thursday said it would take time for the reforms to bear fruit and there will be "negative short-term impact" of the policy changes.
However, the IMF warned the government should not be tempted to ease up on measures like spending cuts, despite the recession this year, but it "should be sensitive to its impact on growth,

jobs

, and the most vulnerable segments of the population."
The IMF last month forecast the Argentine economy will contract by 1.7 per cent this year followed by a 2017 rebound as the reforms take hold, with growth of 2.7 per cent expected.
The nearly year-old government of President Mauricio Macri has begun an ambitious reform program to reverse the "unsustainable policy framework of the past administration (which) was simply not tenable," the IMF said.
The IMF "cautioned that reversing the legacy of severe macroeconomic imbalances, pervasive microeconomic distortions, and a weakened institutional framework will take time."
Reducing inflation — which is expected to end the year near 40 per cent — remains a key goal, and will require steps to insure the central bank is independent and has credibility.
But the IMF warned that "the pace at which inflation is reduced should remain attuned to its economic costs."
The economy also will need "supply side" reforms to improve the business climate and boost growth, including changes to energy and utility regulations and rates, with a program to protect the poor.
The report on the economy, the so-called Article IV review, is marks the end of more than 10 years of friction and severed ties between Argentina and the fund under the two previous administrations.
It came the day after the IMF board lifted the February 2013 censure of the country over its questionable official statistics, the first time it had ever censured one of its 189 members.
Macri's predecessor, former president

Cristina Kirchner

, ran afoul of the IMF with its notoriously inaccurate reports on prices and growth, which masked deep economic problems.
Since Macri took office in December 2015, the government has moved to rebuild relations with the IMF, and has begun reporting what are widely regarded as genuine statistics on inflation, unemployment and growth. — AFP