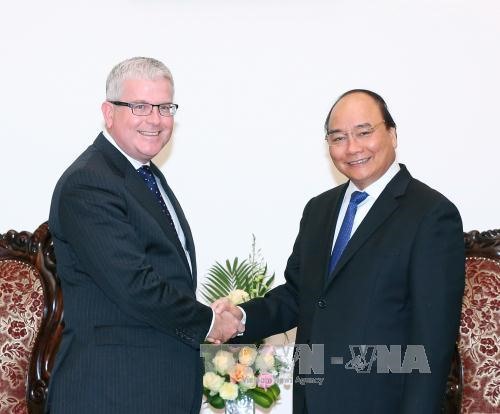 Prime Minister Nguyễn Xuân Phúc welcomed Australian Ambassador Craig Chittick. — VNA/VNS Photo
Viet Nam News
HÀ NỘI — Prime Minister Nguyễn Xuân Phúc welcomed French Ambassador to Việt Nam

Bertrand

Lortholary and the Australian Ambassador Craig Chittick in Hà Nội yesterday.
Speaking to the newly-appointed French ambassador, the PM said Việt Nam hoped France would expand investment projects in Việt Nam, and enhance co-operation in culture and tourism with the country.
The PM highlighted the great potential for the two counties to boost co-operation, especially in the economy.
Việt Nam would consider implementing the urban railway project funded by France in Hà Nội after receiving reports of the Ministry of Finance and the municipal People's Committee, he stated.
The PM also urged the French side to hurry up other European Union member nations to approve the Việt Nam-EU Free Trade Agreement, thus promoting trade and investment

links

between the two countries.
For his part, Ambassador Lortholary pledged to accelerate the construction of the "France House" project in HCM City and a high school in Hà Nội, as well as promote collaboration in television.
He asked the two sides to hasten the signing of the project on building a metro line in Hà Nội, which is expected to be a symbol of co-operation between the two nations.
France committed to double its funding for Việt Nam's climate change adaptation projects, he affirmed, adding that the French Government encouraged French firms to work with Việt Nam in environmental protection, and water and waste treatment.
Receiving the newly accredited Australian ambassador, the PM highlighted fruitful Việt Nam – Australia relations in multiple fields, especially in trade.
He expressed his thanks for the official development assistance (ODA) the

Australian Government

has provided for Việt Nam, saying that the aid had been used effectively.
Việt Nam and Australia had co-operated in multiple economic fields and discussed numerous regional and international issues, the PM said.
Việt Nam currently had about 50,000 students in Australia, Phúc said, adding that they played an important role in promoting the two countries' relations.
Việt Nam wanted to co-operate with Australia in such fields as science and technology, mineral exploration, and develop comprehensive cooperation with the country in economics, culture, education and training, and tourism.
He agreed with the ambassador's proposals to implement joint projects on poverty reduction and gender equality, saying he would instruct relevant agencies to work with Australia on the projects.
The PM welcomed Australia's acceleration of signing the Trans Pacific Partnership (TPP) agreement, and expressed his wish that the Ambassador would contribute to opening a new chapter in co-operation between the two nations.
For his part, Ambassador Chittick said the Australian Government pledges to support the TPP. The country also supports Việt Nam as a

candidate

for the director-general position of the United Nations Educational, Scientific and Cultural Organisation (UNESCO).
He also underlined cooperation potential in telecommunication, specifically in 5G development.— VNS