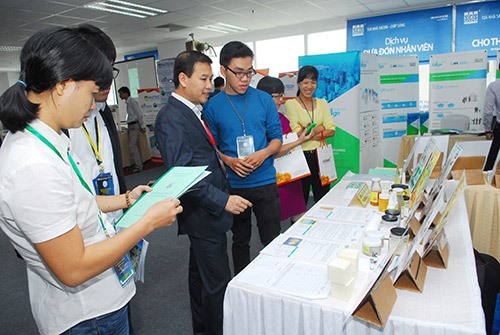 Saigon Hi-tech Park (SHTP) on Thursday (November 17) opened the 4th annual international conference 2016 with the theme Applied Nanotechnology & Nanomaterials in District 9. — Photo thoibao.today
HCM
CITY
— Saigon Hi-tech Park (SHTP) on Thursday opened the 4th annual international conference 2016 with the theme Applied Nanotechnology & Nanomaterials in District 9.
The two-day conference includes three sessions themed Nanoelectronics and Devices; Nanosynthetics and Applications; and Nonomedicine and Nonobiotechnology.
The conference features 28 speakers from 12 countries including the US, Japan, South Korea, Singapore and the host country.
Among the delegates at the conference is Professor Munir Nahfey from University of Illinois in the US, one of the pioneers in this field. He spoke about the role of nanotechnology in development of hi-tech economies.
Professor Nguyễn Đức Chiến from the Hà Nội University of Science and Technology gave a presentation on the research of nanophysics and nanotechnology in Việt Nam.
Universities and enterprises will also give presentations on the application of nanotechnology in production. Among the presenters are Kova (Việt Nam), ZEON, Dynamic Co-Creation (Japan); Nanoglobe Pte (Singapore); Daegu University (South Korea), Việt Nam National University and Việt Nam Academy of Science and Technology.
"This annual conference will bring a comprehensive look on research and development trends in the world, and offer an opportunity for development of nanotechnology in Việt Nam," said Lê Hoài Quốc, president of SHTP. — VNS