VietNamNet Bridge - Following an invasion of South Korean barbecue restaurants, Korean food products have been entering the Vietnamese market through retail channels.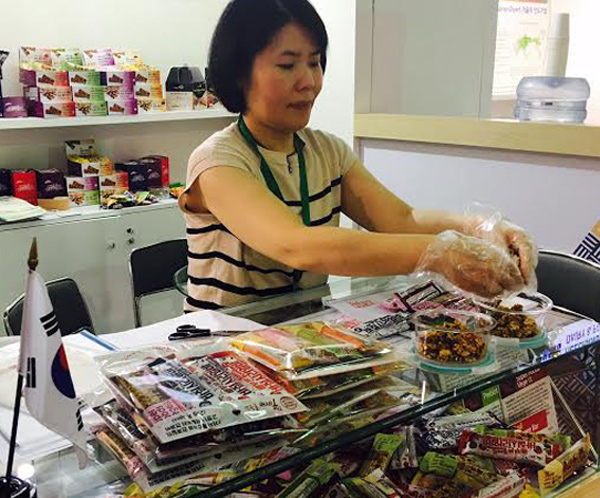 Wrapped in beautiful carton boxes, the pears imported from South Korea are sold at VND250,000 per kilo, affordable only to high-income earners. However, the products still sell very well in large cities.
Nguyen Thi Van from Trung Van residential quarter in Hanoi said she likes the goods because she admires South Korean culture and believes Korean goods have high quality.
"Japanese goods are the best, but South Korean goods are also okay, while the prices are better than other imports," she explained.
Van said she and the other housewives in the residential quarter now use more products from South Korea. In the past, she bought ginseng, but now, she buys everything, from instant noodles to cosmetics to electric cookers.
There are many consumers like Van. Only a few shops distributed South Korean goods in Trung Hoa – Nhan Chinh and My Dinh urban areas in the past, but now there are far more.
Thu Hong, a saleswoman at a convenience store in Ha Dong district, said young people like South Korean noodles very much.
"They like watching South Korean dramas and they want to try some kinds of South Korean noodles," Hong said, adding that South Korean goods, together with Japanese and Thai goods, offer more choices to consumers, especially young consumers in urban areas.
An analyst said that South Korean manufacturers were shifting their focus from the Chinese market to Vietnamese.
The Shinsegae Group has put its first Emart supermarket in Vietnam into operation with the investment capital of $60 million. Lotte has been expanding its operation and presence in Vietnam, having spent $650 million to open 12 supermarkets in Vietnam, of which Lotte Mart Go Vap alone is capitalized at $45 million.
At Vietfood & Beverage-ProPack, 33 out of 180 enterprises displaying their products there were from South Korea. South Korea was one of the countries with highest numbers of enterprises participating in the trade fair.
They brought a wide range of products to introduce to Vietnamese consumers, from high-value products such as ginseng and lingzhi mushroom to sweets, soap, drinks and dairy products.
South Korean businesses are attracted by the 90 million Vietnamese consumers and the improved income per capita, which increased by 6.81 percent in the third quarter of 2015.
According to Le An Hai, deputy director of the Ministry of Industry and Trade's Asia Pacific Department, the food and beverage industries have big development potential in Vietnam.