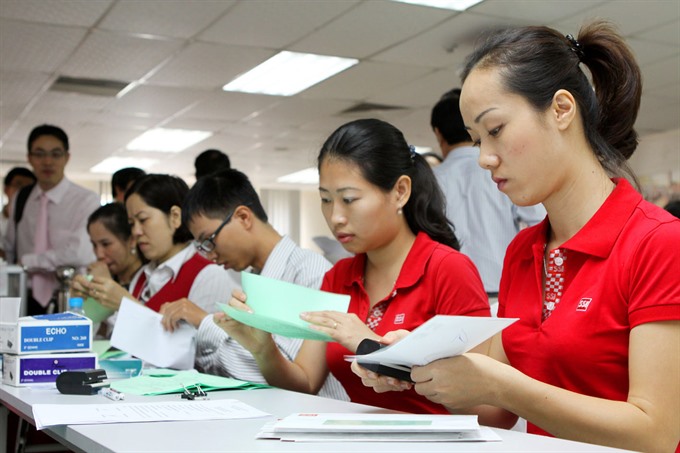 Photo shows staff at Hà Nội Stock Exchange. Local shares fell yesterday after Republican Donald Trump won the US Presidential election. — VNA/VNS Photo Phạm Hậu
HÀ NỘI — Shares on Wednesday retreated on the two local exchanges as investors sold off their investment portfolios on worries the Republican Donald Trump's surprising win in the US Presidential election could shake global political and economic stability.
The benchmark VN Index on the HCM Stock Exchange fell 0.9 per cent to end at 670.26 points, erasing a two-day gain of 1.5 per cent.
The HNX Index on the Hà Nội Stock Exchange dropped 1.4 per cent to close at 80.11 points. The northern market index advanced nearly 1 per cent in the previous two sessions.
"Investors were clearly upset with the fact that the Republican Donald Trump won the US Presidential election and became the 45th US President," Sài Gòn-Hà Nội Securities Corp (SHS) said in a note, adding that the market has now become uncertain and risky in the short term.
"Global financial markets were shaken by Trump's election victory because the Republican candidate is seen as unpredictable with his policy making," Bảo Việt Securities Corp (BVSC) wrote in its daily report.
"The United States' political and economic policies on global trade, taxation and immigration may be changed and the consequences would be uncertain," BVSC said.
For instance, US companies may benefit from lower taxes, the US government may not approve the Trans-Pacific Partnership (TPP), and other free trade agreements may be re-negotiated, BVSC said, adding that it could trigger other countries to counter the US by protecting local-made products, according to BVSC.
"If what he has said in his run for the presidency is realised, big changes will be made and they are definitely not good for highly-risky assets such as stocks, the US dollar and oil," BVSC said.
Poor investor sentiment yesterday sent all 20 sectors down, with the worst-hit being securities firms, banks, property developers, and energy producers.
In the brokerage sector, HCM Securities Corp (HCM) slipped 1.8 per cent, Sài Gòn-Hà Nội Securities Corp (SHS) fell 3.7 per cent, and SSI lost 1.5 per cent.
Other financial firms such as insurance-finance group Bảo Việt Holdings (BVH), Vietcombank (VCB), Sài Gòn-Hà Nội Bank (SHB) and Sacombank (STB) slid between 1.1 per cent and 3.6 per cent.
In addition, only three of the 30 largest listed companies by market capitalisation made gains. Among decliners, real estate company FLC Group (FLC) slumped 4.8 per cent and PetroVietnam Power Nhơn Trạch 2 JSC (NT2) dipped 3.3 per cent.
Investors' sell-off sent market trading liquidity significantly higher yesterday compared to the previous session. Nearly 204 million shares were exchanged on the two local bourses worth VNĐ3.57 trillion ($158.7 million), an increase of 46.7 per cent in volume and 60.3 per cent in value from Tuesday's figures.
Donald Trump's victory in the US presidential election also increased gold prices in Việt Nam's market.
Sài Gòn Jewellery JSC (SJC)'s gold prices closed at VNĐ37.10 million-37.12 million per tael (1.02 ounces), up VNĐ820,000 from Tuesday's closings. Bảo Tín Minh Châu Gold and Jewellery Company raised its gold selling price by VNĐ720,000 per tael to VNĐ36.52 million-36.98 million per tael.
Việt Nam's central bank yesterday set its daily reference mid-point rate for exchange trading band between the dollar and Vietnamese đồng at VNĐ22,025 per dollar, down VNĐ4 from the previous day.
The exchange rate between the dollar and đồng at local commercial banks such as Bank for Investment and Development of Việt Nam and Vietcombank yesterday saw little changed at a range of VNĐ22,235 and VNĐ22,310. — VNS