VietNamNet Bridge – Taste a steaming hot bowl of gruel with "quay" (

breadsticks

) and "ruoc" (salted shreedded meat) in Hanoi's Old Quarter.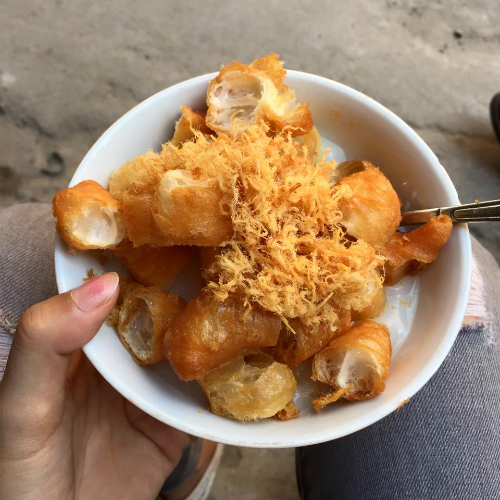 Tourists come to Hanoi look for special food such as bun ca (fish noodle soup), bun thang (noodle soup), nom (salad), pho cuon (noodle). The Old Quarter is between Ly Quoc Su and Huyen alley. But you can also enjoy "quay ruoc" gruel.
Sit down on a plastic stool to eat a "quay ruoc" bowl and see people coming and going on the streets.
This dish is processed a bit simply with white well- kneaded gruel with "quay" and "ruoc", and a little paprika.
A big gruel pot is placed next to an electric pole and arranged with boxes of "ruoc" and "quay". When customers order, the shopkeeper only needs to ask you: "Do you want to eat with "quay" and " ruoc"? If you say yes, you will enjoy a steaming hot bowl of gruel with "quẩy" that is cut into pieces and "ruoc".
It is not a big bowl of gruel as it is inthe South.
"Quay" is dipped into the gruel and becomes softer and more delicious.
If you don't like "quay" and "ruoc", you can also enjoy rib gruel. The price of a bowl of gruel is VND20,000; the store opens from the morning to the afternoon. After enjoying, you can order iced tea or soya bean milk.