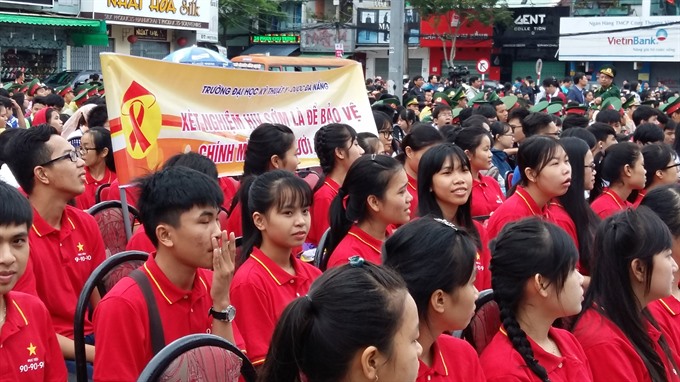 Thousands of young people participate in a campaign event on prevention of HIV/AIDS.
ĐÀ NẴNG — Việt Nam will face a huge budget deficit in health services for people with HIV/AIDS in the next five years, an official from the HIV/AIDS Prevention Agency, Dương Thúy Anh, said yesterday at a conference on insurance payments for ARV therapy.
Anh said the State budget could only reserve VNĐ100 billion (US$4.4 million) for antiretroviral (ARV) therapy in 2016-20, but the demand is for about VNĐ600 billion ($27 million).
She said most people with HIV/AIDS cannot afford prolonged use of ARV and other drugs for opportunistic infections.
Anh said that was why Government and various agencies have been conducting discussions on implementation of the Prime Minister's decision on payment for ARV and support for ARV users through health insurance.
"Only 40 per cent of people with HIV/AIDS have enrolled in social health insurance, while 72 out of 385 (18.7 per cent) of health service centres provided payment for HIV/

AIDS patients

through insurance," Anh said.
"The decision will help people with HIV access health service and treatment, through different sources, including a fund for the poor," she said.
In some places, AIDS patients had received support through flexible policies of the local administration.
Trần Trường Minh, from Vĩnh Phúc Province's insurance, said the northern province had allocated funds from donations and other sources to enable HIV/AIDS patients to get treatment free of charge.
He said people with HIV/AIDS still hesitate to get treatment at health centres due to fear of discrimination.
Lê Thị L. (assumed name), a Đà Nẵng resident with HIV/AIDS, said she has been getting full treatment and ARV at a local health centre for years.
"I and other people with HIV/AIDS cannot pay for health services if we do not have insurance. The city also raises different funds to provide a zero fee for us," she said.
"Actually, earning a living is still hard for us, so a helpful hand from the city eases our daily burden," she said.
Deputy Minister of Heath, Nguyễn Thanh Long, said the Prime Minister's decision will make a big change for people with HIV/AIDS.
"Việt Nam has followed the target over past nine years, and committed to complete the 'Zero to HIV/AIDS' campaign by 2030," Long said.
"The country has been seeking a flexible paying mechanism to ensure that 80 per cent of HIV/AIDS patients enroll in health insurance by the end of 2017 and 100 per cent in 2018," Long said.
He said the Health Insurance Fund will cover full payment of health services and ARV for 90 per cent of people with HIV/AIDS in 2018.
He said 90,000 have died and 230,000 live with the disease.
Meanwhile, about 10,000 new cases of HIV/AIDS are diagnosed each year.
Long also asked provincial health centres to provide drugs for HIV/AIDS patients from the Insurance Fund starting next July.
The deputy minister also said the ministry plans to provide health insurance for prisoners with HIV/AIDS and offenders at rehabilitation centres.
Last month, the city and the Việt Nam Health Improvement Project (VNHIP) inked a new agreement on health care for kids with HIV/AIDS in the city in 2017-21, with total funding of US$150,000.
Việt Nam hopes to reduce the number of people with HIV to 0.3 per cent by 2020.
The country has committed to the global goal of Zero new HIV infections Zero discrimination, Zero AIDS-related deaths, Long concluded. —

VNS