Children of poor families living in the vicinity of the Cái Răng Floating Market in Cần Thơ City are suddenly eager to go to Sunday school.
But this is not a Sabbath school.
Every Sunday afternoon, a group of volunteers hold a special class on a boat. The children who attend the class learn English, soft skills and most importantly, the need to protect the natural environment around them.
This class was opened this September by the volunteers of Mekong Youth Impact, an organisation run by students and ex-students wanting to initiate practical changes in the lives of less privileged children.
"The alarming environmental problems, kids who long for a library and

English lessons

and students who lack soft skills – these motivated me to start Mekong Youth Impact, which aims to make a change and create a fresh look for the Mekong Delta region, my

homeland

," said Trần Anh Thư, 23.
"The state of the environment in the Mekong Delta is alarming and the floating market, an iconic feature of Cần Thơ, is on the verge of disappearing," Thư said.
She was inspired to organise a free class by a peer education project implemented in Huế City, where kids attend classes and then introduce, share and promote

environment protection

messages among their peers, those who are from similar background or age and circumstances.
Thus, each student will

be an ambassador

, helping spread the message of protecting the traditional values and environment of the floating market, Thư said.
Mekong Youth Impact organises a two-hour class every week focusing on three main topics – environmental science, English and reading skills.
Eleven children aged 6-16 participate in a wide variety of activities which include watching movies on environment, going on "field trips", cleaning up the floating market, cycling, recycling and planting trees. They also play games during the lessons.
"With these practical activities, we believe that children will become more interested and curious about learning and adopting new skills," said Mekong Youth Impact's coordinator, Nguyễn Minh Thơ, 20.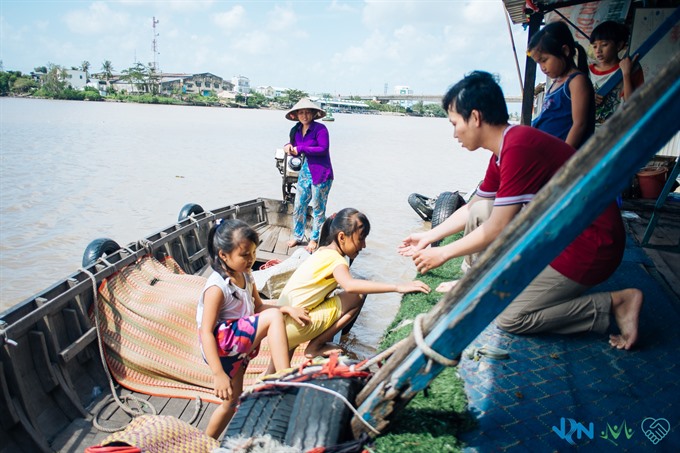 Floating classroom: Volunteer teachers welcome their students. -Photo Courtesy of Mekong Youth Impact
"The participants have made definite progress after two months. Some who were hesitant and shy have become more confident and started forming good habits like putting garbage in the right place, refraining from littering in the river, cleaning hands before meals and developing a high sense of punctuality," said Thơ.
"This progress in the behaviour of children motivates us to continue this job," said Thơ.
The project faces several challenges.
"Our biggest concern is that funds are

insufficient

to operate the project for a long time. More parents want to send their kids to these classes, but due to limited funds and availability of facilities and teaching equipment, we can't admit more," said Thư.
Mekong Youth Impact got a grant of VNĐ20 million (US$880), which is enough to cover expenses like books, pens, toys, and transportation. It will allow the project to be run until December this year.
"We aim to run the project until the end of 2019, so we are calling for more

donors

from an ODA fund in Cần Thơ and another organisation in Hà Nội and looking forward to their response," said Thơ.
Initially, families living in the area were doubtful about the young volunteers' capabilities and were not keen on sending their kids.
"We had to go to the boat of every household to persuade parents to allow their kids to participate in our project and the project had to rent a boat to take kids to the class," said Thư.
But, as the locals see the positive

impacts

of the project on the environment and kids' discipline, more people started sending their children to the class on their own volition.
In just two months, the project gained the trust of local residents. They supported the volunteers by lending a boat to hold the class in.
"The children now have some knowledge of the environment and climate change. They can do presentations, engage in teamwork, and more importantly, appreciate the recycled products made by themselves," Thơ said.
Nguyễn Thị Kim Chưởng, who has two children in the class, said: "My children used to be playful and a bit stubborn, but after they joined the class, they are more obedient and well-behaved. They even inspect their surroundings to see whether there is anyone littering the river."
"We are warmly welcomed by residents whenever we come. They even give us food as

gifts

," Thơ said.
The Cái Răng Floating Market, which has thrived for more than a century as a local commercial hub, offers vegetables, fruits, food for breakfast and even coffee. It is a popular tourism destination in Cần Thơ.
There are currently 26 households who live permanently on boats on the river and the water pollution caused by the daily activities of locals in the area is quite serious, said Thư.
"Not just stale meat and fruit, plastic bags, and cans are also dumped into the river."
"Starting

environment education

at early age is crucial. We hope to raise awareness of environmental issues among locals living and doing business in the floating market, so that we can protect this cultural and tourist destination," said Thơ. -VNS