VietNamNet

Bridge

– Dinh Tran Hieu, 23, is a fresh graduate who has taken up work as a Grabbike

driver

while waiting for a

full time

job. For him, driving for Grabbike is beneficial in a number of ways.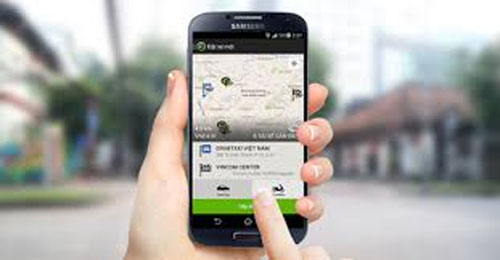 Illustrative image —

File

photo
"I just need a motorbike in good condition, a smartphone, and after doing some administrative procedures, I can become a Grabbike driver. I can even make money from the first day of work." Hieu said.
"It's much better than the traditional motorbike taxi service. I don't have to stay in one place and wait for customers. With just a Grab app, I can reach customers anywhere I go," he added.
In reality, Grabbike and UberMoto have been successful in attacking traditional motorbike taxi drivers. Normally, traditional drivers in a particular area are local residents who sit with their bikes on the pavement and carry customers within the area to anywhere they want. But now, Grabbike and UberMoto drivers don't need their own waiting spot, they can sit anywhere even in a

café

and catch customers through the mobile

applications

.
"It's hard for a traditional driver to

attract customers

along the road because of the customer's fear of insecurity. But if they stay in one place, they cannot generate enough income. Grabbike and UberMoto allow drivers to reach more customers and make them feel secure," Nguyen Thu Linh, an office worker, said.
Linh's opinion is common among the rising number of users. They also mention that the prices offered by Grabbike or UberMoto are lower.
"Using traditional services is less convenient for those who don't like bargaining or calculating the distance. Grabbike or UberMoto have fixed prices for a certain trip, which makes it easier for both customers anddrivers. Not to mention that for short trips, for example, under 2 kilometres, a traditional driver will start the engine at VND25,000-30,000, much higher than Grabbike or UberMoto services," Linh added.
Though prices listed by Grabbike or UberMoto seem relatively low, theirdrivers still make decent money, because the waiting time is shorter so the number of trips increases. Each day, Hieu can make around VND200,000-300,000, which is a good amount compared to other

jobs

.
"Because of low transportation fees, customers often give me a tip, so the total money I make in a month is rather high," Hieu said.
Despite the benefits, Grabbike and UberMoto drivers are exposed to as many risks as traditional drivers, sometimes even more. Grabbike or UberMoto drivers have to travel to pick up customers so it's common for the customer to cancel. Sometimes they cannot make contact with the customers, so time, money, and fuel are wasted.
Customers reneging on payment is another issue. Nguyen Duy Mạnh, a senior student who drives for Grabbike, said, "One day I drove a man to an apartment building. He said that he was going in to get money to pay me, but I waited for a long time and he never came back. I couldn't contact him again."
The convenience that Grabbike offers, especially on the narrow streets of Ha Noi, are undeniable, but not everyone welcomes the technological innovation, particularly "traditional" xe om or motorbike taxi drivers who don't own smartphones.
Some of them complain that this new form of high-tech motorbike taxi driverhas affected their livelihoods, with incomes significantly reduced.
"I haven't had any customers for six hours, after parking my motorbike here since early morning," said 62-year-old Dang Xuan Son. Son is the main breadwinner for his family of four and has worked as a motorbike taxi driverin Nghia Tan Ward in Cau Giay District for 10 years.
He said working as a "traditional" motorbike taxi driver is very hard now due to the severe competition with Grabbikers. Son's main customers now are people without smartphones or the elderly who have not caught up with technology. He himself does not either possess or know how to use a smartphone.
"I used to have some loyal foreign customers, but don't see them these days. They might book their driver through Grabbike now," he said. "I don't know how I will be able to support my family in the years to come."
The familiar sight of the motorbike taxi drivers on every Ha Noi street corner might be lost someday, when tech-savvy customers switch completely to Grabbike and other transport apps. It would be sad, but it is part of the inevitable technological trend, with new developments changing our lives everyday.