Twelve people are dead after a tractor trailer slammed into a crowded Christmas market in Berlin on Monday, police said in tweets. Officials said 48 people are in the hospital, some with serious injuries.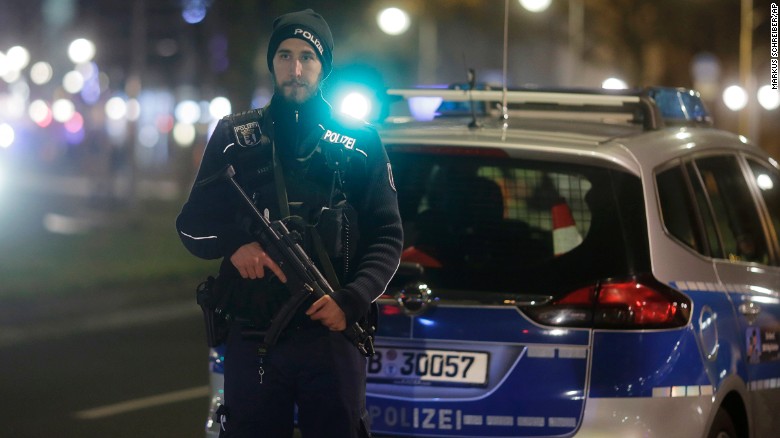 An armed police officer stands near the scene
A tractor trailer barreled into a crowded Christmas market in Berlin on Monday night, killing nine and injuring at least 50. Witnesses said shoppers dropped their glasses of mulled wine, scattered packages and screamed as the truck plowed into the market.
Officials are investigating the crash as an act of terrorism, according to a German intelligence official familiar with the matter.
Authorities have apprehended the suspected driver, according to a police spokesman. Another person who was in the truck died at the scene, police tweeted.
The crash occurred at Breitscheidplatz in the western part of central Berlin. The truck had Polish license plates, police spokeswoman Kerstin Ziesmer said.
Ariel Zurawski, owner of the truck company, told TVN 24, a private Polish television news network and CNN affiliate, the truck may have been hijacked.
Zurawski said his cousin -- the truck's regular driver -- couldn't have been behind the wheel and wasn't the man who ran from the scene.
"My scenario is that they did something to him and hijacked this truck," he said.
Witness Emma Rushton told CNN that the truck didn't slow down. She said the truck was traveling about 40 mph through the crowded pedestrian area.
"There's no way it was an accident," Rushton said. "We saw at least 10 people" injured and lying on the ground.
Another witness, Shandana Durrani, was 20 feet away from the truck when it rammed several market stalls
"I think everybody thought there was a terrorist attack happening," she said. "People dropped what they were carrying and ran for cover. ... It seemed like the truck just jumped the curb and took a wrong turn and barreled through the crowd."
Durrani, an American who moved to Berlin a few months ago, said slowing to respond to a text message "saved me from being hit."
While it was unclear whether the crash was an accident or an act of terrorism, attention turned to the use of trucks in attacks.
Julian Reichelt, editor in chief at German tabloid Bild, told CNN the incident "looks like something that was adapted by Nice," referring to the Bastille Day truck attack in France that killed 86 people and injured more than 200 in July.
Terror groups have used the Internet to encourage followers in the West to use vehicles to stage attacks, according to CNN national security analyst Perter Bergen.
Al Qaeda's Yemeni branch encouraged its recruits in the West in its 2010 webzine, Inspire, to use the trucks as a weapon in an article headlined "The Ultimate Mowing Machine," Bergen wrote.
In September 2014, an ISIS spokesman similarly encouraged such attacks, saying of ISIS' enemies, "Run him over with your car," according to Bergen.