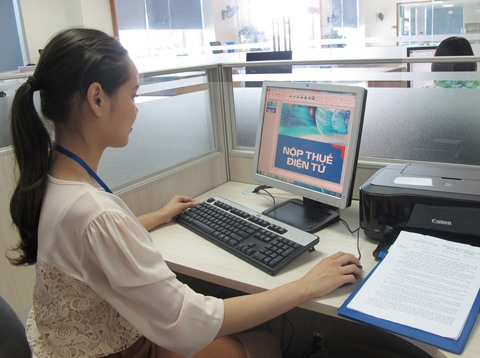 Tax authorities are hastening administrative reform and

application

of e-tax system to create favourable conditions for business. — Photo thoibaotaichinhvietnam.vn
HÀ NỘI — Irrecoverable tax debts were estimated to total more than VNĐ15 trillion (US$669.6 million) as of October 31, rising by 1.4 per cent over the end of last year, the General

Department

of Taxation said.
The irrecoverable tax debts accounted for more than 20 per cent of total tax arrears.
Tax authorities until October 31 collected a total VNĐ33.5 trillion worth of tax debts.
A recent report by the General Department of Taxation showed that tax revenues totaled VNĐ753.4 trillion in the 11 months of this year (excluding revenue from State stake sales at State-owned enterprises). The tax collection met 93.1 per cent of the estimate for the full year and was equivalent to 107 per cent of the same period last year.
Tax revenue from crude oil reached VNĐ35.6 trillion, or just 63 per cent of the estimate, since oil prices remained at low levels.
The Ministry of Finance said tax reforms were hastened this year to create favourable conditions for businesses.
The ministry said 92 tax administrative procedures were removed this year, along with the application of nationwide e-tax declaration and payment system.
The ministry's statistics also revealed that budget collection rose 6.3 per cent in the 11-month period to touch VNĐ911 trillion.
The Government is expected to add VNĐ1.039 quadrillion to the nation's coffers this year, with 80 per cent coming from domestic collection. — VNS