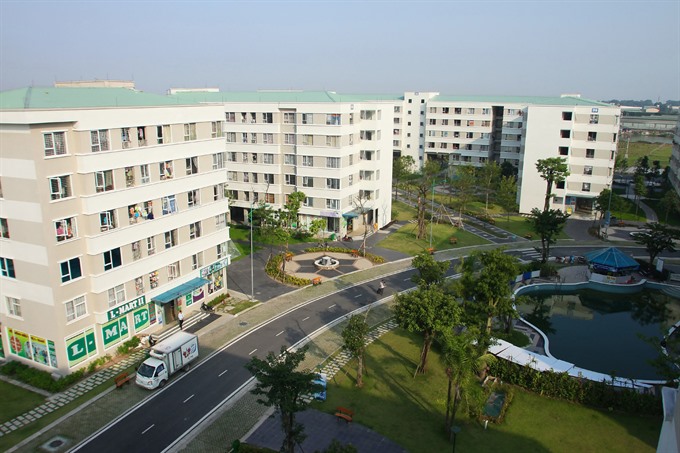 Part of Đặng Xá low-cost housing project in Hà Nội's Gia Lâm District.— VNA/VNS Photo Tuấn Anh
HÀ NỘI — Prime Minister Nguyễn Xuân Phúc has asked authorised agencies to fine-tune mechanisms and policies to attract more resources to social housing development.
Chairing a meeting with representatives from ministries and localities nationwide yesterday in Hà Nội, the PM urged all localities to devise policies for social housing development, stressing that the work is the responsibility of the State, society and people.
Successful social housing development models should be spread across the country, he said.
He emphasised the need to develop low-cost housing for workers – an urgent problem today, and shared the Government's worry about 1.7 million workers in industrial parks (IPs) in need of housing.
He said besides investment from the State budget, owners of IPs are responsible for building houses for their workers.
The PM assigned the Ministry of Construction to issue legal documents to perfect the framework for social housing development.
The Ministry of Finance and the State Bank were requested to continue studying measures relating to credit, tax and interest subsidy to tap medium-and long-term resources from the community, with the aim of reducing the use of the State budget for the work.
The PM also underlined the need to improve the quality of social housing and ensure essential infrastructure for transport, health, education and culture.
He also agreed on the proposal of the Việt Nam General Confederation of Labour (VGCL) to implement a pilot project on building cultural and sport facilities in IPs, affirming that the State will help the VGCL carry out the project.
According to Minister of Construction Phạm Hồng Hà, a total of 3.7 million sq.m of social housing in urban areas and IPs have been put into use so far, benefiting nearly 500,000 low-income earners.
However, only 179 social housing projects (71,150 apartments) in urban areas and IPs have been implemented, fulfilling only 28 per cent of the goal for 2020.
Chairman of the Việt Nam Real Estate Association Nguyễn Trần Nam said land planning, an important factor in the work, is not on the right track, expressing his hope that the Government will consider providing another credit package to help low-income earners buy houses.
According to statistics from the VGCL, about 2.8 million people are working in IPs and export processing zones, with 1.7 million of them in need of housing, while the number of houses at present meets only 8-10 percent of demand
In his speech, Deputy PM Trịnh Đình Dũng stressed the need to consider building social housing an investment channel in order to encourage enterprises' engagement.
He asked localities to outline yearly and medium-term plans to develop social housing on the basis of examining the affordability of labourers.
In his conclusion, PM Phúc said the Government will issue a Directive on the development of social housing after the meeting. — VNS