Pressure expected on dollar-đồng exchange rate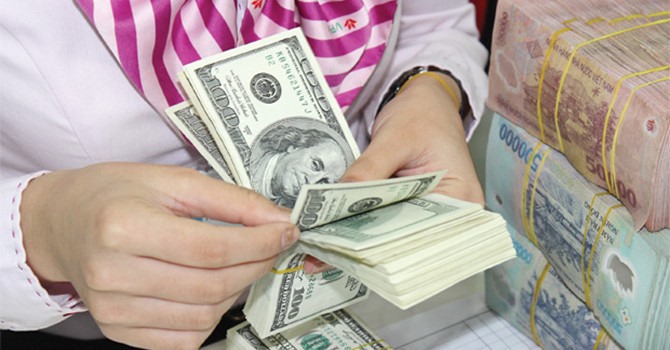 On April 11 the State Bank of Việt Nam decided to increase the rate of the US dollar it buys from credit institutions by VNĐ100 to VNĐ22,675.
The selling price was pushed to the prescribed ceiling.
The dollar's value against the đồng, which had been steady for a while, has been on an upward trend recently.
A report by the National Financial Supervision Committee says the exchange rate showed signs of decreasing in January, but has increased steadily since mid-February and nearly reached the ceiling rate fixed by the State Bank of Việt Nam.
This upward trend has continued in April and the central bank had to raise its central rate by VNĐ5 to VNĐ22,316 to the dollar, up VNĐ175 or 0.7 per cent from late last year.
Following this, banks fixed their dollar selling price at VNĐ22,710-22,720.
One of the prominent economic happenings globally in recent times has been the appreciation of the greenback, which has affected most countries including Việt Nam.
The dollar has risen steadily as the US Federal Reserve has been continuously hiking the interest rate.
On March 15 the FED raised the rate by 25 basis points to 1 per cent, the second hike in three months, and expects to effect two more hikes this year and three next year.
In the face of the appreciation of the dollar, many countries will continue to devalue their currencies to support their exports.
Since Việt Nam's public debts have been growing at a rate three times faster than its economic growth the Government has made herculean efforts not to devalue the đồng.
But this has been threatening to make the country's exports uncompetitive, and so finally the Government has begun to act, tweaking the đồng's value a few days ago.
Analysts said the exchange rate is affected not only by the dollar's appreciation but also by other factors, domestic and global.
The flow of foreign exchange into Việt Nam this year is expected to be modest because from July this year the country will no longer get preferential loans in the form of official development assistance (ODA) since it has become a middle-income country.
Instead, the country would get preferential loans and, gradually, market-based financing.
A Central Economic Committee official said the low interest rate in the Vietnamese inter-bank market also contributed to putting pressure on the exchange rate.
The rate sometimes dropped to under 1 per cent.
These moves encouraged credit institutions to hoard the greenback, thus creating a shortage in the market, putting pressure on the exchange rate.
The rising inflation in recent months brought back fears about the robustness of the đồng, bringing more pressure on the exchange rate.
In the first two months of the year prices rose by 4.96 per cent year-on-year.
Rising imports combined with sluggish export growth sent the country's trade deficit soaring in the first three months of the year to US$1.9 billion, or 4.4 per cent of exports.
The larger trade deficit also had an impact on the exchange rate, experts said.
Vietcombank removes deputy director general from Mizuho Bank
The Joint Stock Commercial Bank for Foreign Trade of Việt Nam (Vietcombank) has removed Yutaka Abe from his position of deputy director general, Vietcombank said on its website.
Accordingly, Yutaka, who acted a representative of Japanese bank Mizuho at Vietcombank since October 2012, was no longer a deputy director general of Vietcombank with effect from April 14.
Yutaka will take on another duty assigned by Mizuho Bank but still have a seat on Vietcombank's board of directors.
Mizuho Bank holds 15 per cent stake at Vietcombank in a deal worth US$563.7 million made in September 2011.
On April 28, Vietcombank will hold its annual shareholders' meeting in Hà Nội.
Vietcombank reported a pre-profit of VNĐ8.2 trillion ($360 million) in 2016, rising by 23.4 per cent over the previous year. In 2017, the bank aimed to earn a pre-tax profit of VNĐ9.2 trillion.
HCM City rental market continues slump
Many investors in HCM City are struggling to rent their apartments as the market continues its tepid streak that began in early 2016, according to the Dau Tu (Viet Nam Investment Review) newspaper.
For example, the owner of a luxury apartment in District 1 is renting a unit for VND24 million (US$1,054) per month, but he bought it for VND4 billion. To attract tenants, the owner, Hung, has furnished it for VND300 million.
"The apartment is fully furnished and has a nice location, but it has been on the market for two months and only a few people have visited, and then they leave," Hung, the owner, said.
Tran Thi Thuy is also renting an apartment in Chu Van An residential building in Binh Thanh District.
To lower rental costs, Thuy chose not to furnish the apartment and set the price at VND7 million per month. However, it has been three months and the apartment has not attracted any tenants.
The townhouse segment in the city is also facing problems finding renters.
Tuan, for example, has had problems renting his three-storey house located on Truong Quoc Dung and Nguyen Van Troi streets in Phu Nhuan District. He has lowered the rent to VND50 million per month from VND80 million.
Though the "for lease" sign has been hanging outside for four months, not one person has called, he said.
According to property website batdongsan.com.vn, rental prices for apartments in districts 2, 7, 9 and Binh Thanh have also declined.
For example, in Binh Thanh District, monthly rent in Vinhomes Central Park, Sai Gon Pearl, Riverside, and Saigonland apartment buildings has been lowered by VND2-5 million per apartment.
District 7, which has the highest occupancy level of all city districts, is also experiencing a price slump.
In residential buildings like Phu Hoang Anh, Hung Phat, Hoang Anh Gia Lai and Era Town, a 60-70 sq.m apartment rents for VND7-10 million per month, compared to VND12-15 million last year.
Several high-end properties like Him Lam Riverside and Sunrise City are seeing a price drop in rentals as well.
Nguyen Huy Vu, head of BANVIETLAND Corporation, told Dau Tu that too many apartment buildings had been built in the city and that investors who bought apartments within the last eight years had been unable to resell them and are now renting them.
With supply exceeding demand, the market has become even more competitive.
Vu Van Sang, a private homeowner who rents three apartments in Phu Nhuan and Thu Duc districts, said: "Part of the reason is that investors tend to buy apartments because of rental profit commitments made by housing developers. But it's the investor's job to find tenants, not the developer's.
"On the one hand, this is good because it makes the market more professional, but, on the other hand, it increases supply. Amateur investors like me cannot compete with professional corporate players. No wonder the market is slumping."
Sang said he planned to sell two of his apartments and find a new investment to get rid of the burden of his property loan.
Le Hoang Chau, chairman of the HCM City Real Estate Association, said the rental market would continue to face even tougher conditions because of the imbalance in supply and demand.
Property speculators typically buy luxury apartments to rent, but most Vietnamese residents cannot afford them, while demand from expatriates living in the city is not high, he said.
The uncontrolled purchases of apartments and investors' unrealistic expectations of the market have adversely affected the rental and property market, he added.
"Just look at residential buildings at night. How many apartments have lights on and how many don't? The reality is that many residential apartments bought by buy-to-let investors are not occupied," Chau said.
BOT transport projects under review
The State Audit Office of Vietnam (SAV) will continue to review build-operate-transfer (BOT) traffic infrastructure projects following inspections into 21 projects in the sector in 2016, said deputy auditor general Nguyen Quang Thanh.
At a meeting with State President Tran Dai Quang yesterday, Thanh said toll fees at BOT stations will be reassessed, the Vietnam News Agency reports.
Deputy auditor general Doan Xuan Tien highlighted the results of the audit of BOT transport projects in 2016. Following the inspections, SAV proposed reducing the planned tolling periods of 21 projects by a combined 107.4 years to reduce business expenses for people and enterprises.
The project of widening the National Highway 1 section from Km 1488 to Km 1525 in Khanh Hoa Province has the tolling duration shortened by more than 13 years, Tien added.
SAV also proposed stopping toll collections in three remaining years for the section of National Highway 1 through Tam Ky town and the road DT 618 in Nui Thanh District, Quang Nam Province.
Thanh said the audits of BOT projects revealed many other problems. Loans accounted for up to 85% of total capital required for the projects, showing the weak financial capacity of such investors as they have to rely heavily on banks loans to fund BOT projects, causing costs to surge.
Five-star hotels in Hanoi gain highest capacity in six years
The occupancy rate at five-star hotels in Hanoi in the first quarter of 2017 reached a six-year high and came in second among Vietnam's localities, announced Savills Vietnam at a press conference on Hanoi's real estate market on April 13.
Do Thu Hang, head of Savills' research department in Hanoi, said the 3-5 star hotel occupancy capacity in Hanoi in the first quarter increased by 10 percentage points to 74%, higher than in HCMC with 68%. However, Danang still boasts the highest hotel occupancy rate.
Along with the capacity increase, room rates also increased to reach an average of US$116 per night, up 41% over the same period last year.
"The hotel segment is a bright spot in the real estate market of Hanoi in the first quarter. There are times when it is difficult to find 3-5 star hotels available in Hanoi," Hang said.
The brightest spot in the hotel market of Hanoi belongs to the five-star hotel segment which achieved 80% occupancy in the first quarter, the highest in six years. The average rate of five-star hotels in Hanoi in Q1 was US$156 per room per night, up 42% over the same period last year.
Currently, Hanoi has 9,200 hotel rooms of 3-5 stars, accounting for 9% of the total number of 3-5 star hotels in Vietnam. In the last quarter, Hanoi did not have any 3-5 star hotels to go into operation.
However, data of Savills Vietnam showed that there will be 900 hotel rooms of 3-5 star standards put into service in Hanoi in 2017 and five-star hotels will account for 64% of Hanoi's hotel projects in the future.
According to Savills Vietnam, the reason for high occupancy at hotels in Hanoi is a strong rise in tourists. In Q1 of 2017, Hanoi attracted 6.1 million visitors, both domestic and foreign.
Also in January-March, Vietnam welcomed 3.2 million international visitors, an increase of nearly 30% over the same period last year, with 40% of them visiting Hanoi.
Another reason is more airlines have opened more international services to Vietnam and many cities and provinces have organized tourism events.
"Although Vietnam's tourism is growing at 26% a year, the number of foreign tourists to Vietnam in 2016 reached only 10 million, far below 35 million in neighboring Thailand. It means that Vietnam remains a potential market for tourism as well as hotel business and investment," Hang said.
HCMC wants to select investors for urgent traffic projects
The HCMC government is seeking the Prime Minister's approval for the city to select investors in special cases with projects in the form of public-private partnerships (PPP), rather than to go through the time-consuming complicated bidding process.
Many of the projects mentioned are the infrastructure ones that will help reduce traffic congestion, with high feasibility and great benefits to society.
In the case of a tender package or a project with exceptional conditions that may not apply open tendering, limited bidding or contractor appointment, local competent persons shall ask the Prime Minister for consideration and decision on the selection of contractors and investors, says Article 26 of the 2013 Law on Public Procurement.
Some of the projects HCMC has submitted to the Prime Minister for consideration and approval for the selection of investors are transport projects that need to be urgently carried out. These projects will help relieve congestion at Tan Son Nhat International Airport, Cat Lai Port, the downtown and the gateways, where regular traffic jams are greatly affecting the socioeconomic development of the city and its vicinity.
Some urgent projects need to apply an exceptional mechanism for quick completion, such as the sections from Phu Huu Bridge to Hanoi Highway, from Binh Thai Intersection to Pham Van Dong Street, the elevated highway No. 1, Can Gio Bridge, Thu Thiem 4 Bridge and the underground parking zone at Tao Dan Park.
These important transport infrastructure projects require a relatively large investment of about VND66.22 trillion. They are just some of the many urgent projects in the transport sector, not including those projects in other areas that are also "capital thirsty".
At a meeting with credit institutions on April 13, HCMC Chairman Nguyen Thanh Phong said the city would diversify the forms of attracting investment into socio-economic development in the context that only 18% of the annual budget may be retained yet the demand for investment is growing.
Calculations show that each dong of budget spent draws 14 dongs from society. Thus, to a certain extent, the role of the budget as a "capital lure" is vital in attracting more important projects in the city.
In the current context, HCMC is required to diversify the methods of attracting investment to gather the necessary funds for development. The urban development embellishment program under the seven breakthrough programs of the city from 2020 to 2020 alone needs hundreds of trillions of dongs, so calculations should be made to diversify the methods of raising capital from society, said Phong.
With the budget retention rate slashed from 23% to 18% in 2017-2020, the HCMC budget will face a shortfall of VND50 trillion, or about VND10 trillion each year. The projects under the seven breakthrough programs planned for 2016-2020 require as much as VND364.18 trillion, but the budget can only cover some VND150 trillion, said a former city finance official.
To find the remaining finance of more than VND200 trillion for the seven breakthrough programs, the city will issue local government bonds, advance idle treasury funds for investment and development, promote the disbursement of loans from the World Bank, and concentrate on ODA loans.
Ministries modify rice export conditions
The Ministry of Industry and Trade, at the request of Prime Minister Nguyen Xuan Phuc, is working to amend Decree 109 on business conditions for rice export to allow rice export enterprises to compete on an equal footing.
The information was given by Tran Thanh Hai, deputy director of the Import-Export Department under the Ministry of Industry and Trade, at the 2017 annual economic forum titled "Solutions to increase the competitiveness of Can Tho City in 2017- 2020 with a vision towards 2030" taking place in Can Tho City on April 13.
According to Hai, the Government is actively improving the rice export business environment by reducing the intervention of non-State organizations that may cause difficulties for rice export enterprises.
Earlier, at the conference "Solutions for the sustainable development of rice in the Mekong Delta" held in An Giang Province on March 15, Prime Minister Nguyen Xuan Phuc requested relevant ministries and departments to revise the regulations that hinder the development of Vietnam's rice sector.
Specifically, the PM requested the Ministry of Industry and Trade to scrap some unreasonable rights of the Vietnam Food Association (VFA) such as price ceiling control and quota distribution which obstruct the export of rice and the development of Vietnamese rice sector as a whole.
Besides, Tran Tuan Anh, Minister of Industry and Trade, has agreed to adjust Decree 109 on rice export business by eliminating complicated regulations on rice export activity.
In addition to Decree 109, the PM requested a revision of Decree 35 on management of rice land use and Decision 1898 on approving the restructuring of Vietnam's rice sector until 2020 with a vision towards 2030 due to some inappropriate targets and orientations.
At the same time, the State Bank of Vietnam was asked to amend Decree 55 on credit policy for rural development by allowing long-term and medium-term loans instead of short-term loans to support the investment in rice milling and processing system and warehouses.
Thaco targets lower profit
Truong Hai Auto Corporation (Thaco), the biggest auto manufacturing and assembly firm in the country by sales volume, has set a target of achieving after-tax profit of over VND5,000 billion (US$220 million) this year, 31% lower than last year.
The profit decline is attributable to the dreary automobile market and the corporation's huge spending on its investment plans.
Thaco shareholders at their general meeting on Wednesday approved a business plan with total sales of 58,384 passenger vehicles, down 8% against 2016 and a market share of 21%. The planned sales include over 28,000 KIA, more than 29,800 Mazda and 550 Peugeot cars.
The automobile market is forecast to fall by 7-10% compared to 2016, as consumers tend to wait until 2018 when the tariff on CBU cars imported from ASEAN is slashed to 0% from the current 30%.
In explaining the lower-than-expected profit in 2017, Thaco said the corporation keeps cutting its product prices by an average of 5% a year and up to 15% by 2018 to compete with imported cars from ASEAN countries. To realize this price-cutting scheme, the corporation will seek to reduce production and shipping costs and manage sales, advertising and marketing of the distribution system to better compete with domestic and ASEAN rivals.
Thaco is also investing in other projects that will not generate profits in the short term. Besides, capital cost will rise due to big investment, while bigger amounts of profit will be shared with joint venture partners as Thaco is stepping up auto and auto parts manufacturing.
However, Thaco still set an ambitious target for trucks and buses, aiming for sales of more than 53,600 units, up 14% over 2016 and holding a market share of 45%.
In general, Thaco has set a target of selling over 112,000 automobiles, earning total revenue of nearly VND64,000 billion, equivalent to 2016. Total revenue of Thaco in the first quarter was over VND13,000 billion, while its after-tax profit reached nearly VND1,250 billion, accounting for 25% of the plan for the year.
In 2017, Thaco plans to invest over VND13,000 billion in the auto industry, up 319% against 2016.
Last year, Thaco led the local auto market, selling some 110,500 vehicles including about 63,500 passenger cars and 47,000 commercial vehicles, accounting for 32% of the market.
The corporation reached total revenue of about VND65,800 billion (about US$3 billion) and after-tax profit of about VND7,900 billion.
The merger with Dai Quang Minh Corporation helped Thaco have 90% of Dai Quang Minh's profit.
By the end of 2016, the workforce of both Thaco and Dai Quang Minh was over 17,400, an increase of 21% over the same period in 2015. The corporation paid VND18,000 billion in taxes, up nearly VND4,200 billion against 2015, including VND14,350 billion to Quang Nam Province's budget.
US$4.85 million invested in egg processing plant in north
Ba Huan Company, well-known for safe chicken egg treatment and consumption in the southern region, yesterday inaugurated its first clean chicken egg processing plant in the northern region.
The hi-tech plant has been built over two hectares in Phuc Tho district, Hanoi at the total capital of VND110 billion (US$4.85 million) and capacity of 65,000 eggs an hour.
All equipment of the plant has been imported from Dutch Moba Group and processing phases have been automated.
The plant provides a stable consumption source for thousands of farmers in the northern region.
FDI capital into VN's real estate increases
Foreign direct investment (FDI) capital into the country's real estate sector has highly increased in previous time which was estimated to increase over 10 percent and ranked the second position about attraction of FDI capital compared to other fields.
The registered FDI capital into the real estate was up to US$ 2.39 billion in 2015, and reached US$ 1.3 billion in 2016.
Currently, Vietnam has many investment capital sources in the real estate sector such as Dragon Capitals Vietnam Resource Investment, VinaCapitals Vietnam Infrastructure Limited, Indochina Capitals Indochina Land Holdings …
Besides, the amount of overseas national currency exchange into the real estate also gained high, contributing into the sector market's economic growth.
4,800 enterprises newly established in Mekong Delta
According to Vietnam Chamber of Commerce and Industry (VCCI) in Can Tho city, around 4,800 enterprises have been newly established in Mekong Delta region in the first quarter of 2017.
In the first three months of the year, Mekong Delta region attracted 27 new foreign direct investment (FDI) projects with total registered capital of US$ 103 million; and 15 capital-intensive projects with total capital of US$ 31 million.
Tien Giang ranked the first position about attraction of FDI project. Currently, the locality has two FDI projects with total capital of US$ 54.62 million.
In the second quarter of 2017, VCCI in Can Tho city will improving business environment in the localities; strengthening investment and commerce promotion programs; supporting start-up enterprises.
As plan, VCCI Can Tho city will launch the Mekong Delta's start-up program in May.
Ministry boosts linkage between farmers, enterprises in pepper, coffee sectors
A meeting held by the Ministry of Agriculture and Rural Development had met to discuss how to boost the linkage between farmers and enterprises in pepper and coffee sectors with the aim at increasing value and competitiveness.
In 2016, Vietnam earned US$3.34 billion from exporting 1.78 million tons, an increase of 32.8 percent in the volume and 25 percent in the value. However, it is still low because Vietnam exports raw material.
According to the Department of Crop Production, the rate of processed coffee accounted for 10 percent of the whole country. Nguyen Viet Vinh, Secretary General of the Vietnam Coffee and Cocoa Association (Vicofa) said that the connection between enterprises and farmers is weak; mostly deals are made through traders.
Another thing is that enterprises deal with each other on the agreement of moisture level, the rate of broken coffee-beans, and impurities and just 1 percent of enterprises abide with the standard. Consequently, Vietnamese coffee is priced lower.
Similarly, pepper sector also has had same problems like coffee sector. Worse, prices of pepper decreased half because farmers expanded the growing areas and diseases are plaguing the plant. Currently pepper is sold at VND110,000 per kilogram ($4.8 a kilogram).
Deputy Minister of Agriculture and Rural Development Le Quoc Doanh asked the Department of Plant Protection and the Vietnam's Pepper Association to develop the connection between farmers and enterprises.
Vietnam issues ban on import of animal feeds with stimulants
Vietnam will stop imports of animal feeds with stimulants since October 1, 2017, as per the Department of Livestock Production's document.
Accordingly, importers are responsible for supervising to ensure that no more animal feed with stimulants in the local market since January 1, 2018.
Importers must report the volume of animal feed imports and consumption of the kinds with stimulants bought before and how to sell them to the Department.
The ban aims to stop the use of stimulants in husbandry.
HCMC always side with foreign investors: city party chief
There are many opportunities for HCMC and Japanese localities to boost the cooperation relationship and the city will always accompany foreign investors including Japanese firms, affirmed HCMC party leader Dinh La Thang.
He was speaking in an interview with Sai Gon Giai Phong Newspaper after leading a HCMC high ranking delegation in a working visit to Japan from April 6-15.
As of March 31, Japan has 1,007 valid projects licensed in HCMC with registered capital totaling US$3.55 billion, ranked 4th out of 87 countries and territories investing in HCMC after Singapore, British Virgin Islands and Malaysia.
According to Mr. Thang, the strategic partnership relationship between Vietnam and Japan has developed strongly and comprehensively in many fields with a high political belief.
This year, Japanese Prime Minister Shinzo Abe conducted an official visit to Vietnam in January. For the first time, the Japanese emperor and empress arrived in Vietnam for a March state level visit.
The visit is considered as a landmark playing special significant role and creating a motive power to foster the two countries' relationship in the upcoming time.
At present, Vietnam and Japan are working closely to prepare for a coming official visit to Japan by Vietnamese Prime Minister Nguyen Xuan Phuc.
HCMC has been glad to contribute to the two countries' relationship by luring most investment from Japanese firms to Vietnam for large scale infrastructure projects with the outstanding one being Ben Thanh-Suoi Tien metro line.
The city has also implemented lot of cooperation projects with Japanese localities. That is an outstanding example for the dynamism and efficiency of the friendship relationship between HCMC and foreign localities.
Aside from that are people-to-people and cultural exchange activities between the two sides.
The HCMC high ranking delegation has seen its ten day visit to Japan successful, received by the secretary general of the Japanese Liberal Democratic Party, the Chief Cabinet Secretary of Japan, the Minister of Foreign Affairs and the Minister of Land, Infrastructure, Transport and Tourism.
During the trip, the delegation visited and worked with many Japanese localities including Osaka on the occasion of the 10th and 20th cooperation anniversary between HCMC and Osaka province and Osaka city.
Besides they met and talked to leaders of some other provinces and cities of Japan, representatives of Japanese economic organizations and businesses to boost cooperation especially in fields of infrastructure development, traffic, tourism and hi-tech which HCMC has paid much heed to and faced many difficulties and challenges.
Within the framework of the trip, HCMC organized trade, investment and tourism promotion activities in five provinces and cities namely Osaka, Tokyo, Hyogo, Aichi and Nagano. Of them, the events in Osaka and Hyogo introduced projects calling for investment in HCMC together with the city's potentials and advantageous conditions for investment and tourism.
The conferences also worked toward creating opportunities for the two sides' businesses to seek partners through trade connectivity operations, market surveys and visits to industrial parks and hi-tech agricultural zones.
At meetings and working sessions during the trip, the two sides believed that Japan's attempt to become the top investor in HCMC is totally possible and they have potentials and strengths to supplement and support each other to obtain the target.
HCMC commits to going on efforts for a transparent investment environment and facilitating foreign investors' operation in the city, making it an ideal destination for Japanese firms.
The commitment also aims at raising resources for the city to carry out seven breakthrough programs in the resolution of the 10th HCMC Party Congress and materialize the purpose of a civilized, modern and humane city.
HCMC has been attracting investment under public private partnership (PPP) model for socioeconomic development with 20 projects having been signed and implemented with the total funds of VND67 trillion (US$2.95 billion) mainly in fields of traffic and environment.
The city is now calling upon investors for an extra of 95 PPP projects with the total capital of VND121,433 billion ($5.4 billion).
Social resource mobilization through PPP form is an obligatory requirement for HCMC which is in a huge need of funds to carry out the city's seven breakthrough programs. The city could not only look forward to budget capital or official development assistance (ODA) source.
PPP model has been successfully applied in Japan so Mr. Thang believed that with Japanese experiences and enthusiastic and since invitation by HCMC, many projects in the city will draw attention by Japan and other countries and soon be implemented in the upcoming time.
Via the visit to Japan and working sessions with Japanese localities and businesses, Mr. Thang recognized that Japanese investors appreciated HCMC's efforts to improve business environment as well as incentives for investors.
However, they hoped that the city will continue improving business environment, intensifying preferential policies and further administrative reform to encourage investors and meet development requirements in the upcoming time.
In fact, these are things which the city found needed to be promoted with the deep awareness that a good business environment will comprise not only incentives and attractive policies but also timely accompaniment, sharing and support by city leaders' to help businesses cope with difficulties.
The municipal authorities pledged to do their best to ensure socio-political stability, protect legitimate rights and benefits of investors and facilitate steady and efficient operation of foreign companies in general and Japanese in particular in long term.
They considered successes of foreign firms as their, Mr. Thang said.
Sacombank supports FDI enterprises
Economic zones receiving foreign direct investment (FDI) capital have contributed significantly to the growth of Vietnam's economy. Preferential policies regarding corporate income taxes, import-export taxes, and priority administrative procedures implemented by the government have also boosted investment.
Aware of the important role of and the major demands of FDI enterprises, Vietnamese credit institutions have focused on approaching this type of customer. For instance, Sacombank has launched many appropriate products and services that have met the demands of foreign investors investing in Vietnam.
The bank has offered preferential packages relating to fees customized for Japanese enterprises, as well as products for satellite companies of the Samsung Group, LG, and others, and many other products and services for FDI enterprises who are new customers to Sacombank.
The average annual growth of capital flowing into Vietnam stands at over 10 per cent. According to recent figures from the Ministry of Planning and Investment, as at early 2017 there were 116 countries and territories investing in Vietnam through 22,792 projects with total registered capital of $295.6 billion. South Korea leads in total investment (more than $50 billion) and project numbers, followed by Japan, Singapore, and Taiwan. Total import-export turnover of FDI enterprises in 2016 rose 9 per cent compared to 2015, contributing 65 per cent of the total.
Sacombank has also continued to offer preferential programs that facilitate FDI enterprises doing business in Vietnam, such as free or discounted charges for international and domestic money transfers, free account opening and maintenance, and preferential fees on payroll services for up to one year.
The bank has received a great deal of positive feedback on its services from customers. "We are interested in the payroll service offered by Sacombank in terms of its wide transaction network, large ATM network, and low fees for using its cards, which meet our requirements," said a representative from a HCMC-based FDI enterprise
Moreover, Sacombank has been fostering its multi-lingual employees in order to serve FDI enterprises. It has coordinated with its partner, Japan's Resona Bank, to found a Japanese customer-focused business development team in order to give Japanese enterprises investing in Vietnam advice on related procedures and policies in their native tongue. This is part of its efforts to boost economic development through attracting foreign investment.
Sacombank picked up a "Vietnamese Excellent Brand Award 2016" from Vietnam Economic Times on April 8, confirming its leading position in the country's financial sector.
Q1 revenue of PV Gas hits $660mn
The Petrovietnam Gas Joint Stock Corporation (PV Gas) recorded revenue of VND15 trillion ($660.790 million) in the first quarter of 2017, its annual general meeting (AGM) on April 17 heard.
Its parent company, PetroVietnam, recorded revenue of over VND14 trillion ($616.93 million) in the first quarter, an increase of 7 per cent year-on-year.
PV Gas's after-tax profit stood at VND1.47 trillion ($64.78 million), virtually the same as in the first quarter of last year.
It planned to pay a dividend of 40 per cent last year but only paid 23 per cent, with the remaining 17 per cent to be distributed this year, following the AGM.
PV Gas's business plans for 2017 includes revenue of VND51.48 trillion ($2.26 billion), down 15 per cent against 2016, with after-tax profit of VND5.26 trillion ($231.74 million), down 27 per cent.
Its plans were calculated based on an oil price of $50 per barrel. The dividend payout is expected to be 30 per cent.
PV Gas also presented a number of business line modifications to the AGM. It will carry out gas exploitation projects this year, such as the Nam Con Son 2 gas pipeline, Phase 2, Su Tu Trang, Red Dragon Fish, and Golden Star - Dai Nguyet.
The investments will see a breakthrough for PV Gas when oil prices are low and exploitation enterprises are facing ongoing difficulties.
Its Ca Mau Gas Treatment Plant project saw construction completed in the first quarter and is now in trial operations.
PV Gas recorded revenue of VND60.5 trillion ($2.66 billion) last year, 14 per cent higher than planned. After-tax-profit was VND7.1 trillion ($312.89 million), 38 per cent higher.
The low oil price has had a negative effect on PV Gas. Two of its enterprises, PV Pipe and PV Coatings, recorded losses while others posted positive business results, according to the Board of Directors.
No 2016 dividend from Masan Resources
Masan Resources (MSR)'s annual general meeting (AGM) on April 17 approved a resolution to not pay dividends for 2016 and set a revenue target of a minimum of VND5.38 trillion ($236.7 million) and a maximum of VND5.6 trillion ($246.4 million) in 2017, up 33 and 38 per cent against 2016. The company also targets after-tax profit from VND150 billion ($6.6 million) to VND290 billion ($12.7 million).
In the long-term, MSR aims to become not only a leading mining company but also a leading company in the production of tungsten and other deep-processing products.
Revenue last year reached VND4 trillion ($176 million), up 52 per cent compared to 2015, with after-tax profit of VND1.15 trillion ($50.6 million), up 37 per cent.
Approximately half of MSR's revenue comes from tungsten, according to the company. It will have a process to produce gold-based products this year.
In regard to the results of an inspection at the large Nui Phao mine conducted by the Ministry of Natural Resources and Environment (MoNRE) in July last year, a leader from MSR said that the company is still waiting for the final conclusion from the ministry.
Mr. Lai Hong Thanh, Deputy General Director of the Department of Geology and Minerals at MoNRE, meanwhile, confirmed with VET that the results of the inspection are still to be released. "It is expected that the results will be announced within the next few months," he said.
At the AGM, MSR leaders reaffirmed that it complied with all regulations on environmental protection in construction, exploitation and operations at the project, and with Vietnamese regulations on environmental protection and the application of international standards.
The environmental pollution scandal at Nui Phao mine was made public last July. After receiving complaints from local people about the project's environmental impact, MoNRE worked with the Thai Nguyen Provincial People's Committee to prepare a comprehensive inspection plan that covers environmental protection and mineral, water and land resources.
The Nui Phao project was licensed in 2005 and has significant deposits of tungsten, fluorspar, bismuth and copper, making it the world's largest tungsten mine outside of China. It covers an area of 9.21 sq km in Dai Tu district, Thai Nguyen province.
In 2010, Masan Resources acquired the project from Dragon Capital, a Vietnam-focused financial institution, and other stakeholders. The mine began commercial operations in the first quarter of 2014.
Prior to Dragon Capital, the project was owned by Canada's Tiberon Minerals Ltd, with a 70 per cent holding. Due to the economic crisis at the time, Tiberon sold the project to Dragon Capital in 2007. Dragon also lacked the capital for the project and was forced to suspend it in 2008.
In July last year, Masan stepped in and invested $550 million in the project. The company planned revenue of $288 million this year, rising to $320 million next year. Masan Resources currently holds 63.4 per cent of the project's charter capital.
Garment, textile exports to rise 10%
Việt Nam's garment and textile exports may increase by 10 per cent this year if there are not adverse fluctuations in the global market, according to the Việt Nam National Textile and Garment Group (Vinatex).
Phạm Minh Hương, Vinatex's managing director, said the garment and textile industry earned US$28.5 billion from exports last year, a year-on-year increase of 5.2 per cent.
Việt Nam has advantages in making products for middle-class customers. With prolonged economic difficulties in the world market in recent years, the number of mid-end orders also fell, and importers shifted to import cheap products.
That is why the industry's growth rate fell last year, she said.
"But the number of orders increased significantly in the first months of the year, which is a good sign for the industry," she said.
Việt Nam's garment and textile sector has certain advantages, including diverse products, a higher level of quality and better skilled labour force than countries with a similar development level.
In addition, with its steady production, ensured quality and delivery time and services, as well as stable political situation, Việt Nam is considered a main destination for garment and textile products, she said.
Phạm Xuân Hồng, chairman of the HCM City Association of Garment Textile Embroidery and Knitting (AGTEK), told Việt Nam News that many enterprises had orders until the second quarter of the year.
Enterprises were linking up each other to fulfill large orders, said Hồng, who is also general director of Saigon 3 Garment Joint Stock Company.
Hồng said Saigon 3 expected to enjoy a growth rate of 10 per cent this year, with Japan being its largest importer.
Both Hồng and Hương believe that the industry's value addition has been low since enterprises mainly do sub-contracting work for foreign buyers, lack design capacity, and rely on imported materials.
Domestic supply for fabric remains modest, Hương said, adding that domestic and foreign firms have invested more in fabric production to meet domestic demand.
Speaking at a recent garment and textile conference, many delegates urged enterprises to switch their production methods to FOB (free on board) and ODM (original design manufacturer) to add value to products.
"Proceeding to higher production methods to enhance added value in products is an inevitable trend," said Nguyễn Đình Trường, deputy chairman of the Việt Nam Textile and Apparel Association.
Businesses should thoroughly prepare for such methods, focusing on material market research and producing on demand from their partners, he said.
Some delegates at the seminar said they were afraid that the garment and textile industry would not reach its export target for the year amid drastic competition.
In addition, the increase in labour costs has affected the competitiveness of businesses, said Lê Quang Hùng, chairman and general director of Sài Gòn Garment Trading Joint Stock Company.
Hương said to retain competitiveness, enterprises need to invest more in modern technology with higher automation features to improve productivity, save energy consumption and protect the environment.
In addition, they should develop similar products that compete with countries that have competitive advantages in those items, she said.
Besides prices and quality, large buyers also paid attention to environmental requirements of products when seeking suppliers, she said.
Car imports from India, Indonesia continue rising
The number of cars imported from India and Indonesia into Vietnam increased sharply in the first three months of this year, while car imports from the UK and Germany fell considerably.
According to the Customs General Office, in the first quarter of 2017, Vietnam imported only 105 cars from the UK, down from the figure of 235 during the same period last year.
The average price of car imported from the UK sold in Vietnam was VND1.3 billion (US$59,000), excluding taxes.
During the January-March period, only 365 cars were imported from Germany into Vietnam, while the number was 600 during the same period of 2016. BMW, Mercedes, Audi and Volkswagen are regularly sold in Vietnam.
The Customs General Department also reported that Vietnam imported around 1,000 cars from Japan in the first quarter, down from 1,700 units on-year.
Meanwhile, car imports from ASEAN and India have continued to be on the rise, particularly from Indonesia.
During the first three months of this year, up to 4,400 Indonesian cars were imported into Vietnam with the majority being cars of less than nine seats, up five-fold against the same period of last year.
Vietnam also imported more than 10,000 cars from Thailand between January and March this year, against just 7,800 in the first quarter last year. Half of Thailand-imported cars into Vietnam are pick-up trucks.
From January 1, 2017, Vietnam cut the import tariff on completely built cars from ASEAN members from 40% to 30% to meet its commitments outlined in the ASEAN Trade in Goods Agreement, which aims to reduce trade barriers and expand markets among member states.
From 2018, this agreement requires Vietnam to reduce tariffs on car imports to zero.
VEF/VNA/VNS/VOV/SGT/SGGP/Dantri/VET/VIR