Some bad elements have taken advantage of the marine environment disaster in the central region last year to instigate some local Catholics to cause social disorder.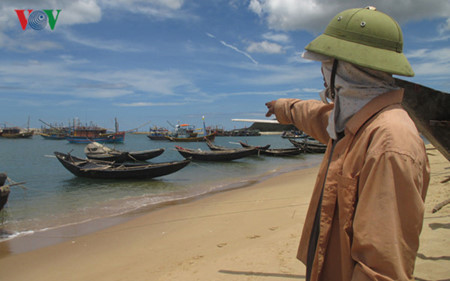 The marine disaster causes great troubles to fishermen in the central region
Their purpose is to cook up a story about what they call "religious and democratic suppression", create an image of an "unstable Vietnam", divide national unity, trigger riots, and call for foreign intervention.
In February and early April, some Catholics in Nghe An and Ha Tinh province blocked a transnational highway, attacked officials and law enforcement personnel, destroyed property, and caused troubles at the headquarters of the Loc Ha district People's Committee.
Some extremist priests, lay Catholics, and members of the Viet Tan terrorist group have been identified.
Over the past year, since the marine disaster caused by toxic chemical waste from the Formosa steel plant in Ha Tinh province, Vietnamese authorities have been doing their utmost to help life in the affected region return to normal.
Formosa admitted responsibility and agreed to pay US$500 million in compensation. Authorities have identified and fixed 51 of 53 problems with Formosa's waste discharge process. The responsibility of individuals and organizations involved is being reviewed.
Prime Minister Nguyen Xuan Phuc has stressed that Formosa can resume operation only when the disaster aftermath is completely resolved. He also warned that the plant will be closed permanently if a similar incident occurs.
By March, 77% of the intitial compensation, worth more than US$200 million, had been paid to the victims. Many affected families have used the money to build new vessels for offshore fishing.
Despite authorities' efforts, many illegal rallies and gatherings have occurred in Nghe An and Ha Tinh province, all of them orchestrated by reactionaries.
Truong Minh Tam and Chu Manh Son have confessed that they received money from reactionary groups to incite unrest, using the Formosa incident as a pretext.
Most of the illegal gatherings which have caused social disorder and security problems have taken place in areas dominated by Catholics.
Vietnamese authorities have been trying to settle the marine crisis and create the best conditions for Catholics to practice their religion.
The incidents in Nghe An and Ha Tinh, masterminded by certain priests and the Viet Tan terrorist group, have caused security problems, affected people's livelihoods, sowed hatred, split national unity, run counter to Catholic doctrine, and damaged the image of the Vietnam Catholic Church.