VietNamNet Bridge - Dam Quang Minh is well known in Vietnam for not only being the youngest university rector (he was appointed to the post of FPT University Rector in 2014 at the age of 35), but also as the educator who cherishes the dream of exporting Vietnam's education.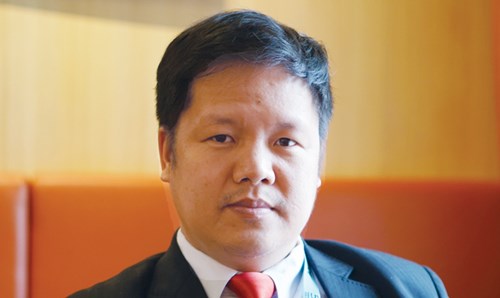 Mr Dam Quang Minh

During a lengthy conservation with reporters, Minh talked about the so-called 'education asylum' which is occurring in Vietnam.

He cited a report as saying that Vietnam has 110,000-125,000 students studying overseas, and that Vietnamese spend $3 billion a year to fund their children's overseas study. Meanwhile, only 3,000 foreign students are studying in Vietnam.

"If considering education as an economy, one can see that Vietnam is incurring a trade deficit in education," he said.

The total number of students in Vietnam is 2.4 million and the total amount of money Vietnam has to spend every year to train students is $1.7-2 billion.

"This means that the domestic piece of cake is smaller than the overseas piece of cake," he said, adding that this shows that Vietnam's education market cannot satisfy Vietnamese demands.

Minh, as an education expert, has given warnings about Vietnam's university education. He said if Vietnam's education cannot reform, it would decline rapidly. Universities would lose students in their home market.
As Vietnamese people's income has improved, it is cheaper for them to study abroad. Minh predicted that the number of Vietnamese students studying overseas would increase to 300,000, nearly equal to the number of full-time students at Vietnamese universities in one year.

Prior to that, Minh also conducted research on non-state universities and the mechanism to operate non-state schools. In 2014, Minh and Pham Thi Ly from the HCMC National University issued a report about non-state education in Vietnam.

According to Minh, there are two groups of non-state universities. The first mostly enrolls students who failed to enter state-owned schools.

Minh believes that the strategy led the school to an impasse. This explains why many of them have disappeared from the 'school' map', such as Ha Hoa Tien, Phan Chau Trinh, Chu Van An, Luong The Vinh and Huu Nghi.

The second group includes schools that strive to high education quality and set high tuitions.

Minh, since 2014, has been thinking of exporting Vietnam's education. He realized that foreign students will choose destination countries before choosing destination schools. Therefore, it is necessary to build up a national brand for Vietnam's education.

In order to do that, Vietnam's universities need to appear regularly in the world's large forums on education. Minh and other education experts have persuaded schools to join the QS (Quacquarelli Symonds) globalization education group.