IBM and Five9 Viet Nam announced on Thursday they would work together on cloud services to bring cognitive computing to enterprises and organisations in Viet Nam.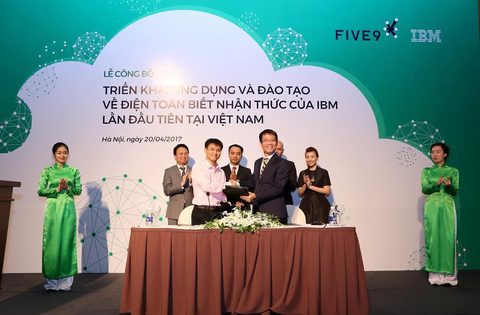 Nguyen Trong Huan, Chairman of Five9, and Tran Nguyen Vu, Country Manager, Software Solutions Group at IBM Viet Nam, sign a co-operation agreement in Ha Noi on Thursday.
Accordingly, Five9 is the first organisation in Viet Nam to tap into Watson APIs on IBM Bluemix to create and bring to life solutions that transform industries and society, starting with the banking and finance sector, healthcare and television.
Further, as part of the event, Five9 announced a training partnership in cognitive computing with four top universities in computer science education in Việt Nam and inked deals with three businesses in Viet Nam to propel the application towards making it a reality.
Five9 will work with Information Technology College, Hanoi Technology University; Technology College, National University; IT and Telecoms Institute, Post and Telecoms Academy; and IT Institute, Military Science and Technology Academy, to provide training and transfer to teachers and students of these academic institutions the knowledge and skills needed to adopt IBM cloud computing and cognitive computing technology.
The company also closed deals with three businesses in Viet Nam, VTVlive, OneNet and BIDV (Hoai Duc branch), to launch cognitive computing applications for real life utilisation.
Through a variety of agreements signed and announced on the day, IBM and Five9 will help businesses, educators, researchers, startup entrepreneurs and users in Viet Nam gain access to artificial intelligence (AI) applications, while providing opportunities for many generations of developers to enhance their skills related to AI and promote innovation.
The agreement with IBM will establish Five9 as the first company in Viet Nam to build apps with cognitive capabilities that analyse unstructured data collected from social media to understand customer needs.
"Cognitive application is still new in the world," Nguyen Trong Huan, chairman of Five9, said. "Together with IBM, Five9 will implement cognitive computing technology in Viet Nam on a comprehensive scale, hoping to contribute to breakthrough changes in all aspects of life and the economy."
"The adoption of AI and cognitive computing for the delivery of improved personalised services is constantly increasing," Eric Yeo, IBM Viet Nam country general manager, said.