VietNamNet Bridge - Vietnamese now tend to prefer outbound tours instead of domestic ones as it has become less costly to travel abroad and foreign agencies are more professional in promoting tours.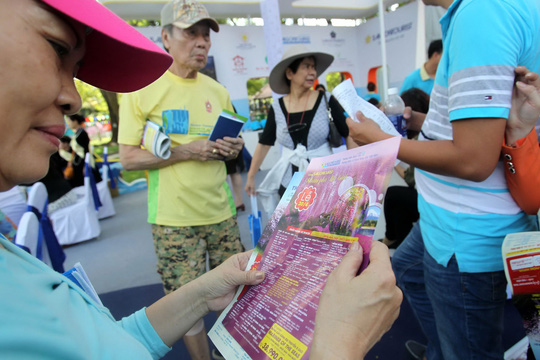 Travel firms all reported that the sales of outbound tours at the HCMC 2017 Tourism Festival were much better than domestic tours.
At Ben Thanh Tourism, tours to Taiwan, Bali, Dubai and Bhutan with attractive fees of around VND10 million or more were the most wanted. The tours to Japan and South Korea have been closed soon because of full bookings. Tours to Thailand, Hong Kong, Singapore and Malaysia have also been chosen for the summer.
Other travel firms including Vietravel, Saigontourist, Du Lich Viet and Tugo have also reported sharp increases in bookings for outbound tours.
The steady high two-digit growth rate in outbound tours at some travel firms has encouraged foreign tourism agencies to come to Vietnam to promote tourism.
Most recently, JNTO (Japan National Tourism Organization) has opened the representative office in Vietnam with an aim to attract more Vietnamese travelers to Japan.
A survey of the organization showed that within five years, from 2012 to 2016, the number of Vietnamese travelers to Japan increased by four times to 230,000 by the end of 2016.
JNTO Hanoi's Chief Representative Ayumi Takahashi said Japan considers Vietnam one of the 20 key markets.
Prior to that, Thailand, Singapore and South Korea all had set up representative offices in Vietnam to approach Vietnamese travelers.
According to Korea Tourism Organization (KTO), 251,000 Vietnamese visited South Korea in 2016, while it hopes the number would surge to 300,000 in 2017. Meanwhile, Thailand attracted 830,000 Vietnamese travelers to the country last year.

High airfares make domestic tours less attractive
Nguyen Thien from Tan Phu district in HCMC, said she tends to choose outbound tours, because outbound tours are getting cheaper.
"The airfares are low, the expenses on accommodations and food in foreign countries are not high, while foreign travelers are not overcharged," she said.
A return ticket on HCMC-Da Nang route, for example, is priced at VND1.5 million. The fee for a tour to Thailand is now just equal to a tour of Hue or Da Nang in Vietnam.
Phan Xuan Anh, President of Du Ngoan Viet, said that outbound tours have low fees partially because of low airfares.
While travel firms still have not found solutions to reduce air transport costs, air carriers have announced an increase of airfares, commencing from late March and early April.
The move, as analysts warned, will make domestic tours become even more expensive, and therefore, less competitive than outbound tours.