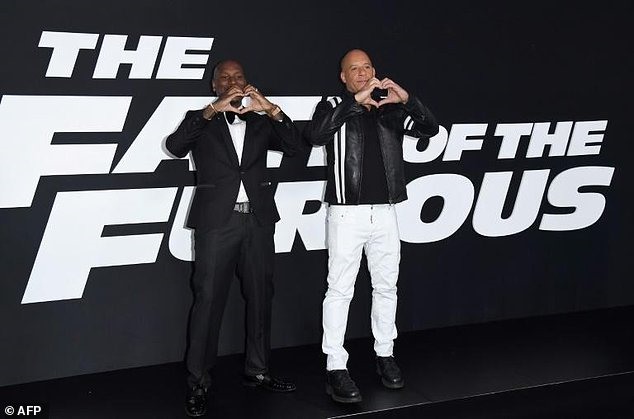 Actors Tyrese Gibson (left) and Vin Diesel (right) attend the premiere of Universal Pictures 'The Fate Of The Furious' at Radio City Music Hall on April 8, 2017 in New York City. —AFP/VNA Photo
Viet Nam News
LOS ANGELES — The Fate of the Furious debuted in super-high gear this weekend, taking in US$100.2 million on North American screens and roaring to record global revenues of more than a half-billion dollars, industry analysts estimated on Sunday.
Exhibitor Relations said the latest chapter in Universal Studio's Fast and Furious series accounted for nearly two-thirds of North American revenues over the three-day Easter weekend, leaving previous frontrunner The Boss Baby, a Fox/DreamWorks animation, in its dust with just $15.5 million in sales.
Behind megastars Vin Diesel and Dwayne The Rock Johnson, the latestFurious film opened exceptionally well in the rest of the world.
Led by China, which set a three-day record of $190 million, the film brought in $432.3 million in some 60 countries.
The $532.5 million global debut, once North American revenues added in, would break the record of $529 million held by Star Wars: The Force Awakens.
It would also surpass such other box-office monsters as Jurassic World($524.9 million) and Harry Potter and the Deathly Hallows Part 2 ($483.2 million).
The film, directed by F. Gary Gray of Straight Outta Compton fame, also features Charlize Theron, Tyrese Gibson and hip-hop star Ludacris.
In it, Diesel's Dom Toretto character is coerced to join forces with a cyberterrorist played by Theron, who turns him against his team.
For all its strong showing, the manic muscle-car-filled film earned nearly a third less in its first North American weekend than the previous Fast and Furious chapter, which drew $147.2 million.
But Universal is not about to apply the brakes: additional Furious chapters are planned for release in 2019 and 2021.
Beauty and the Beast continued to draw viewers to North American theatres this weekend, earning $13.6 million in its fifth week.
The Disney blockbuster, starring Emma Watson and Dan Stevens, has taken in $454.7 million domestically while pushing past $1 billion internationally.
The animated Smurfs: The Lost Village from Sony was fourth with $6.5 million. That was half its opening take from a week earlier.
Holding fifth spot on North American screens was Going in Style. The Warner Bros. comedy, starring Morgan Freeman, Alan Arkin and Michael Caine as ,aging bank robbers, had weekend sales of $6.3 million.
Rounding out the top 10 were:
Gifted ($3.0 million)
Get Out ($2.9 million)
Power Rangers ($2.9 million)
The Case for Christ ($2.7 million)
Kong: Skull Island ($2.7 million). — AFP